By
Lewis
- 21 September 2018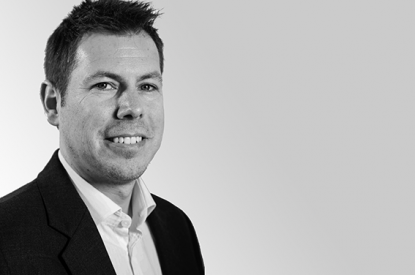 When people think of the Isle of Man, the imagery that normally springs to mind is of green rolling hills, or of basking sharks gently gliding through Port Erin Bay.
However, those that are familiar with the Island, and have been following its development over the past few decades, will know that business and innovation thrives here, and that the breath taking scenery has provided the perfect platform for creativity to blossom.
Of course, it's not surprising that it's the wild side of the Island that lures so many people here. It's one of the reasons that I myself decided to move my family here. After 12 years as a project management consultant, I started to look for a fresh challenge where I could put all the skills that I had learnt over my career into practice. I've always been interested in technology, and actually started my working life in air traffic control, designing systems and working in projects such as doubling the number of flights across the Atlantic. So, when the opportunity to become the CEO of the Isle of Man's newly formed Digital Agency arose, I knew that I'd found the perfect blend of business and tech.
In my new role, I've been given the opportunity to shape the Island's digital strategy across a whole range of different sectors. The chance to use my skill set across such a multifaceted industry was particularly appealing, and the Island's variety of sectors is exceptionally impressive. There is diversity here that should be championed, and it is already clear that a large part of my role will be focusing on how to develop what is already a strong digital heritage.
Part of this legacy has been our long-standing dedication to the e-Gaming sector. The Isle of Man has always been a notable supporter of the industry, a strong business presence here has helped craft the offering that we currently have, and it's something I think we can be immensely proud of. Of course, a solid reputation is the absolute minimum that businesses expect, and in a sector where innovation is explosive and sustained growth has become a necessity, we have to be on the front-foot when it comes to expanding and continually improving our existing proposition.
It is also true that the sector is changing. Technology continues to open up avenues that didn't exist two or three years ago, and the frequency of technological breakthroughs threatens to leave the inadequate (or the old-fashioned) behind. We have already seen how, in the last year alone, the Blockchain and cryptocurrency revolutions have radically changed the way start-ups and tech companies think, and how the expectation of what constitutes a 'modern' technology environment has completely changed – companies need more resources, they require more talent and they need the freedom to prosper, all of which must be matched with the right level of support from government.
From our perspective, the inherent pace of the industry obviously provides us with an opportunity for growth, but it also gives us a chance to continuously look at what it is we offer here. In a market as ferociously dynamic as e-Gaming, complacency is a dangerous mind set to adopt, and our businesses' desires to expand must be matched by our capacity to foster growth.
Of course, this is ultimately a large part of my own role. It is my responsibility to instigate change, and to ensure that the Isle of Man continues to offer a world class proposition to the businesses that are currently based on the Island, as well as those looking to relocate here. An important part of this is my commitment to have a new e-Gaming strategy in place by the end of the year, to ensure that we continue to deliver sustained excellence in the sector. I have already started to engage with local e-Gaming companies, as well as the wider industries, to make sure that their thoughts and inputs are taken into consideration.
Payment service providers, e-Gaming companies and the gambling sector all have a crucial role to play in shaping what our future proposition looks like. Whilst our strength has traditionally been the licensing of e-Gaming companies, we are also currently working on broadening our proposition. Engaging with a spectrum of tech companies is an effective way of ensuring that a diverse range of views are taken into account. The Isle of Man has always had a strong sense of local community and, whilst we are an international business centre, it's important that we continue to learn from the individuals and companies that have already made the decision to base themselves here, as any new strategy must seek to build on this well-established ecosystem.
So what does our future proposition consist of? As I've already mentioned, we want to broaden out our existing proposition, and we are currently looking at ways of integrating a greater variety of technology companies into our technological hub. The future of the industry is collaboration, and if we can create an environment that supports integration and cross-over then we are already playing a vital role in fostering connectivity and growth. Secondly, we want greater partnerships with other jurisdictions. The world is becoming more and more connected, and isolation in a globalised world stands to benefit no one. It's certainly an area that we'll look to develop, and our on-Island businesses should be excited about what we can offer the world, and what the world can offer us.
Finally, we want talent to continue to feel nurtured here. We already have some of the best minds in the e-Gaming industry based on the Isle of Man, and we want to make sure that they feel like this is a place where they can reach their full potential. We currently have some of the most exciting digital projects we've ever had on Island, and we want prospective talent to relish in the opportunity of coming to work here, building their skill set and advancing their careers. People have always been at the centre of our strategy, and we will continue to recognise the role that they play in making our Island such a unique place to work and grow.
2018 will no doubt throw up further twists and turns in the e-Gaming space, but I am certain that the sector will meet any unexpected challenges head on.
Related Stories