By
Phil
- 27 January 2023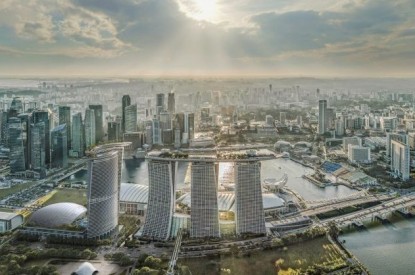 With all time highest mass gaming revenue at Marina Bay Sands, Las Vegas Sands generated revenue of $1.12bn, for the quarter ended December 31, 2022, an increase of 10.8 per cent from the prior year quarter.  Whilst Macau is lagging so far behind in its recovery, there are signs that the lifting of travel restrictions have provided an immediate boost.
Referring to the figures obtained over the Chinese New Year holiday period, Sands China COO and Executive Director, Grant Chum, said: "We are seeing a very strong recovery. If you look at visitation numbers to Macau, we are currently running at about 40 per cent of where we were in the 2019 Chinese New Year but our revenues and volumes are outperforming that visitation recovery.
"In these types of reopening we are going to see the premium customers coming back first, so what we're seeing is the quality of revenues and patronage has been very, very high and we are way outperforming the visitation recovery in terms of volume and revenue."
Operating loss across the company was $166m, compared to $138m in the prior year quarter.  Net loss from continuing operations in the fourth quarter of 2022 was $269m, compared to $315m in the fourth quarter of 2021.
"While travel restrictions and reduced visitation continued to impact our financial performance during the quarter, we remain confident in a robust recovery in travel and tourism spending across our markets and deeply enthusiastic about the opportunity to welcome more guests back to our properties throughout 2023 and in the years ahead," said Robert G. Goldstein, chairman and chief executive officer.
"In Singapore, we were pleased to see the robust recovery continue at Marina Bay Sands during the quarter, with the property delivering record levels of performance in both mass gaming and retail revenue. We are excited to have the opportunity to introduce our new suite product to more customers as airlift capacity improves and growth in visitation from China and the wider region is enabled by the relaxing of travel restrictions."
"In Macao, we were gratified to receive a new gaming concession during the quarter, which will enable us to continue our decades-long commitment to making investments that enhance the business and leisure tourism appeal of Macao and support its development as a world center of business and leisure tourism. We remain deeply confident in the future of Macao and consider Macao an ideal market for additional capital investment."
"Looking ahead, our industry-leading investments in our team members, our communities and our market-leading Integrated Resort offerings position us exceedingly well to deliver growth as travel restrictions are further relaxed and the recovery comes to fruition. We are fortunate that our financial strength supports our ongoing investment and capital expenditure programs in both Macao and Singapore, as well as our pursuit of growth opportunities in new markets."
Consolidated adjusted property EBITDA was $222m, compared to $251m in the prior year quarter. Consolidated hold-normalized adjusted property EBITDA was $329m, compared to $234m in the prior year quarter.
Full year 2022 operating loss was $792m compared to $689m in 2021. Net income attributable to Las Vegas Sands was $1.83bn, or $2.40 per diluted share, in 2022 and included a $3.60bn gain on sale of our Las Vegas real property and operations.  This compared to a net loss of $961m or $1.26 per diluted share, in 2021. On a GAAP basis, full year 2022 total net revenues for SCL decreased 44.2 per cent.
JP Morgan's DS Kim said of the Macau results: "While 4Q print was backward-looking given Macau's recent re-opening in January, we're pleased to hear such upbeat commentary from the management, especially given the not-so-amazing visitation during Lunar New Year (LNY). Net-net, we are confident of the pace/magnitude of demand recovery from here and resulting upside risks to estimates – and for that, we feel its current valuation is very attractive."
CBRE Equity Research analyst John DeCree added: "MBS achieved these results in the quarter without a full return of travel and with about 20 per cent of its room capacity offline due to ongoing renovations
"With revenue and spending across gaming and non-gaming segments exceeding visitation volumes in the early days of reopening, we are beginning to see key similarities between Macau and the recovery in other markets that would suggest an eventual rally beyond 2019 levels," he added. "As long as this prospect of eclipsing 2019 EBITDA levels remains alive in Macau, we see the green light to own the group. Specifically, LVS has the breadth and depth of hardware in Macau to capture significant wallet share, not just on the gaming floor, but across non-gaming verticals, likely giving the company a head-start in the early recovery days."
"With China outbound travel just now picking up, and more rooms to meet demand coming back online, we see plenty of room for MBS to run over the next several quarters and ultimately expect the property to exceed 2019 EBITDA levels."