By
Phil
- 13 February 2020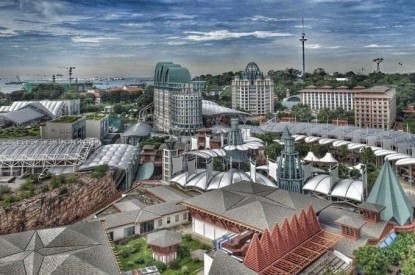 As it gears up for the 10th anniversary of Resorts World Sentosa in March 2020, Genting Singapore confirmed a nine per cent year-on-year decline in revenue to SG$607.2m (US$438m) for the three months to December 31 2019, with a 13 per cent drop in casino revenue at Resorts World Sentosa, blamed on a higher entry levy introduced in April 2019.
Its fourth quarter results included an 18 per cent fall in mass market revenues to SG$322m (US$232m) with VIP fairing better coming in at a similar level as last year at SG$277m (US$200m). The Group described its financial performance as 'stable' with profit for the quarter at $155.9m, an increase of four per cent compared to the corresponding period last year.
As it looks to begin its $4.5bn mega expansion of the resort to be called RWS 2.0, it warned of the effects of the Coronavirus outbreak on its next quarter.
The group stated: "With the Novel Coronavirus issue that has created massive disruption to the travel and tourism industries, the group is generally pessimistic about the outlook for the first half of 2020. We will be embarking on a stronger productivity drive and utilise this period to refresh and develop our offerings. Our non-gaming businesses continued to do well, with our hotels achieving an occupancy rate of 92 per cent and our key attractions at Resorts World Sentosa welcoming an average daily visitation of over 20,000. We continue to exercise prudence within the VIP segment. Overall margin improved as a result of productivity and efficiency initiatives implemented in early 2019 that are now bearing results. For the full year 2019, the business was challenged by geopolitical uncertainties and economic volatilities. As a result, the Group registered a revenue of $2,480.3 million and Adjusted EBITDA of $1,189.6m, a slight three per cent decline year-on-year."
Design and planning for RWS 2.0 is 'well under way.' Once A Pirate, an immersive dining and performance concept on the adventures of Asian pirates, is on track to open in late 2020. Construction of the rest of the project continues where in March, the Maritime Experiential Museum will be completely renovated to be the new extension of our award-winning S.E.A. Aquarium. Paving the way for a complete transformation of the waterfront promenade, a Waterfront Lifestyle Complex will be built, adding to the resort two new destination hotels, exciting day-to-night dining and lifestyle experiences, and an iconic public attraction replacing the Crane Dance. Leading the transformative journey to enliven the southern corridor of Singapore, RWS 2.0 will be a major catalyst for urban rejuvenation, spurring a new wave of tourism growth for the next decade.
The group added: "Our innovative and novel offerings at our RWS key attractions, namely Universal Studios Singapore, S.E.A. Aquarium and Adventure Cove Waterpark, helped reaffirm our position as the Best Integrated Resort in Asia Pacific, our ninth consecutive win at the prestigious Travel Trade Gazette Travel Awards 2019. In addition, to amplify the customer experience, we recently launched the Be.U mobile app that will help our guests navigate through the multitude of offerings within the resort."