By
Phil
- 22 February 2019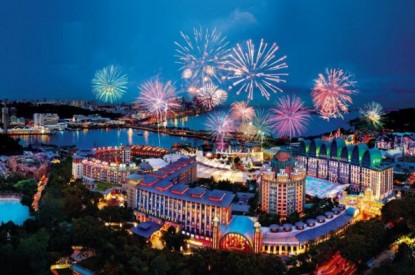 Genting Singapore has reported a 15 per cent increase in revenue to S$664.8m for the three months to 31 December 2018, as Resort World Sentosa stole some market share back from its market rival Marina Bay Sands.
Its share of revenue in the Singapore market increased from 39 to 41 per cent. The increase was due to higher VIP rolling chip volume and strong hold. The group recorded a 12 per cent year-on-year increase in its adjusted earnings before interest, tax, depreciation and amortisation of $286m and registered a net profit after tax of $150.2m for the three months ended 31 December 2018. For the full year ended 31 December 2018, its revenue rose six per cent to $2,539.2m while Adjusted EBITDA grew seven per cent year-on-year due to on-going productivity initiatives.
The company said: "Our marketing efforts on regional premium mass segment yielded positive results while our rolling business grew respectably. Meanwhile, our non-gaming businesses also experienced growth in both visitation and spending per pax from great curated events, innovative offerings and initiatives. For the fourth quarter of 2018, the Group saw a 15 per cent year-on-year increase in revenue. Our attractions business did well with average daily visitation of over 21,000 and an increase in average visitor spend across all offerings. Our hotels continued to outperform the industry with an occupancy rate of 95 per cent. Excluding the prior year one-off gain of $96.3m on disposal of the group's interest in an integrated resort in Korea, our net profit registered strong 28 per cent year-on-year growth.
Sanford C Bernstein said rolling chip probably increased by around nine per cent year-on-year to S$8.2bn with GGR up 38 per cent to S$277m.
Analysts there said: "Higher VIP volumes are likely being driven by more credit extension. We are concerned about the increase in bad debt provision and don't buy management's downplay – saying it's only a 'blip' from quarter to quarter and the company is maintaining the same credit extension level."
Revenue for the full year for Genting Singapore increased by six per cent to S$2.5bn.
The company added: "We are cautious of the ambiguous economic environment and on-going geopolitical friction that is clouding the growth of the Asian gaming and tourism market. The group will continue to refine our marketing focus to those markets that will produce respectable returns in our invested resource. With increase in competition from newly opened gaming facilities, as well as aggressive marketing tactics, we continue to improve our customer experience. We are dedicating substantial resources in the planning and reinvestment of Resorts World Sentosa to ensure that we remain the top resort destination in Asia Pacific."