By
Phil
- 14 November 2023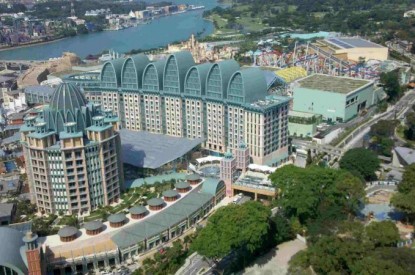 For the third quarter of 2023, Genting Singapore delivered $689.9m in revenue, representing a 33 per cent growth from the corresponding period a year ago. Net profit increased by nearly 60 per cent to $216.3m.
At the property level, Resorts World Sentosa (RWS) continued to benefit from the sustained recovery oftravel and tourism. Adjusted earnings before interest, tax, depreciation and amortisation grew 31 per cent quarter-on-quarter to $350.4m.
On a hold-normalised basis, gross gaming revenue (GGR) improved 31 per cent quarter-on-quarter to
$715.2m, exceeding the levels of 2019 for both VIP and mass gaming segments. Non-gaming revenue improved 22 per cent quarter-on-quarter to $230.1m as a result of increased foreign visitor arrivals and higher customer spend during the summer holiday season.
The third quarter of 2023 marked several significant milestones in our sustainability journey. We received the prestigious "Sustainability Initiative of the Year" award at the esteemed Singapore MICE Awards event.
We advanced our commitment to achieving carbon neutrality through a transformative partnership with Honeywell. Together, we launched a large scale cloud-based Building Management System, which aims to
enhance energy efficiency across the integrated resort. Additionally, RWS' Pandan Gardens office and warehouse achieved the Building and Construction Authority (BCA)'s Green Mark Platinum Zero Energy
certification. On the social responsibility front, RWS has deepened its commitment by collaborating with Food from the Heart, a local charitable organisation, to fund and enable equitable distribution of fresh, locally sourced produce to 2,400 underprivileged families across the island over the next three years.

The Board of Directors is pleased to announce that it has approved a total investment of around S$6.8bn
The company said: "We are confident that this investment will firmly anchor RWS as the most sought-after tourism destination in Asia, and propel the Group's strong future growth. This investment will be funded through internal resources. The Waterfront development has received government's provisional permission with construction set to commence in 2024. The Waterfront development comprises approximately 700 hotel keys and experiential lifestyle content in a captivating blend of biophilic architecture that is designed by award winning firm Benoy. Coupled with a striking new waterfront sculpture designed by Heatherwick Studio, it will transform Singapore's skyline and form a monumental gateway to RWS and the new Greater Southern Waterfront precinct."