By
Phil
- 13 May 2019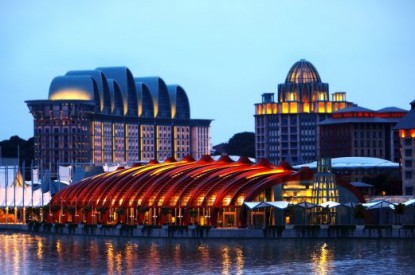 Genting Singapore's revenues dropped by five per cent in its first quarter to S$640m (US$469.4m) with net profit falling five per cent to S$205m.
The Group said it 'continued to perform healthily in the first quarter of 2019, with revenue of $640.4m and an adjusted e -gaming business registered its eighth consecutive quarter of year-on-year revenue growth with higher spend per visitor.'
"Our key attractions drew in a daily average visitation of over 19,000, » Genting added. « Hotel occupancy remained high at 93 per cent during the quarter. Notwithstanding challenges from both the local and regional economies, the Group continues its marketing efforts especially towards the regional premium mass segment.
Resorts World Sentosa has embarked on a re-development investment of approximately $4.5bn to expand and transform our world class integrated resort, delivering new attractions, entertainment and lifestyle offerings from 2020 onwards.
The company stated: "Our mega expansion plans will see the addition of two new immersive environments Minion Park and Super Nintendo World added to Universal Studios Singapore providing guests with new rides and experiences. S.E.A. Aquarium will be expanded into the current Maritime Experiential Museum, to be rebranded as the Singapore Oceanarium. A new Waterfront Lifestyle Complex, that will house two stylish hotels, exciting trendy facilities and novel food & beverage offerings, will transform the RWS waterfront into an exciting all-day, all-night venue. This investment reinforces our commitment to make RWS the leading Integrated Resort destination in the world and will shape the business model for the next stage of growth.
Genting added: "Backed by the solid track record of operating in a highly respected jurisdiction and reinforced by a robust balance sheet, the group is well positioned to deliver a bid that will showcase a large-scale integrated resort destination which will enhance Japan's tourism appeal and make significant contributions to its tourism economy."