By
Phil
- 27 February 2013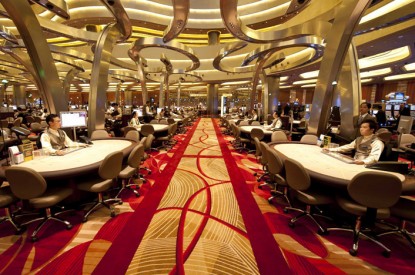 Singapore's two Integrated Casino Resorts have both reported an upswing in their VIP segments, reversing a downward trend which saw one into the VIP sector of the other.
Analysts had believed that the two multi-billion dollar venues were fighting for control of the same VIP players
but over the last quarter of 2012, both Sands Marina Bay and Resorts World Sentosa saw strong year-on-year growth in the lucrative VIP sector.
Genting, who operates Resorts World, reported a 56 per cent increase in VIP play whilst Sands saw a similar improvement of 53 per cent increase.
Carey Wong, an analyst at OCBC, pointed to a 'stable political climate' as being key to more Chinese high-rollers playing at the baccarat tables in Singapore. Chinese players account for the vast majority of play followed by players from Indonesia and Malaysia.
Citigroup analyst George Choi said: "In the past quarter, we have finally seen a recovery and my guess is we have hit a bottom."
Operating results at Marina Bay Sands were unfavourably impacted by lower than expected Rolling Chip win percentage of 2.14 per cent for the quarter. Rolling Chip volume, an indicator of levels of play in VIP rooms, was $16.47bn for the quarter, the second highest quarterly volume in the property's history. Non-Rolling Chip drop decreased 3.2 per cent to $1.11bn and slot handle decreased two per cent to $2.69bn. Total mass win per day during the quarter decreased 3.4 per cent to $4.49m, compared to $4.64m in the fourth quarter of 2011.
Genting stated: "The results at Resorts World Sentosa remains solid with revenue of S$791.4m. Comparing to the fourth quarter of 2011, business vlume in the premium players segment improved significantly by 56 per cent. However this was offset by weaker win percentage in the premium players business. Netherless, no-gaming revenue continues to show healthy growth of 19 per cent. Faced with the challenges posed by the uncertain economic climate in year 201, Singapore continued to produce steady cash flow."
Credit, junkets and Asian gaming all go hand in hand. Whilst Genting said it was relaxed about the levels of credit it had extended, Sands described Singapore as 'the most challenging credit market.'
Robert Goldstein, President of Global Gaming Operations for Las Vegas Sands, said: "You're giving away a lot of credit to a smaller number of people, and you don't have the legal remedies you have here in the US."