By
William
- 13 January 2022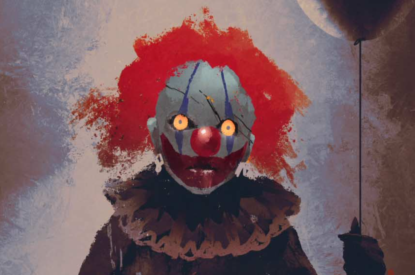 Horror based slots are a great way to keep customers engaged. Breathing new life into a wide array of iconic horror characters and bringing their own unique spin to the genre, developers are using dark themes and motifs in order to capture the imagination of players.
Horror themed elements are able to seamlessly combine to create a narrative where each different aspect adds to the overall player experience. Developers are also using horror themes to showcase new designs, create new characters and breathe life into cult classics.
Dark themed slots vary too in their tone. Some go for a more tongue in cheek feel while others verge on the darker side of the spectrum. So what are some of the innovations coming out of new horror themed slots? What are the most popular sinister plots and themes are we seeing emerge? Why are there so many slots based around horror tropes and what are the most popular and innovative horror themed games on the market today?
Chris Smalley, Head of Design at Blueprint Gaming
Chris, is Rick and Morty a sinister slot? After all, it's an American adult-animated science fiction comedy that deals with cosmic horror?
Our Rick and Morty licensed games carry a darker theme compared to other titles within our portfolio. Although the IP fits within our strategy of developing branded content inspired by popular TV shows, it somewhat marked a new direction for us.
Traditionally, our core content has been very much focused on classic themes, such as those that depict Irish folklore and Ancient Egypt, as well as mining and jungle adventures. There will always be a place for these types of themes in our industry, but clearly there is demand from players to experience games that carry alternative ideas.
That's why our Rick and Morty games have performed so well. While the titles attract fans of the TV show, they were visually a break in the norm to what we typically produce and that resonated with a certain audience.
What is it about dark themes that fit in well with slot design?
If you look at the style of games Blueprint produce, we always aim to build a narrative into the gameplay. With branded content, that's made even easier as we're dealing with existing characters and can draw inspiration from storylines from popular films or TV shows.
Darker themes can naturally fit into a slot game when adopted in the right way. The industry is beginning to embrace this more, with apocalyptic style games becoming more common these days.
How can a slot reflect the sinister qualities of iconic horror characters?
The graphics and sounds are key in bringing a sinister slot to life. With these types of games, you want to create a tense environment, similar to how you would experience a horror movie at the cinema. It's all about the entertainment. For a certain audience, they enjoy the suspense that you don't necessarily receive with a classic casino game.
How are dark themes and iconic characters used to drive the idea of a narrative journey in your slots?
With our Rick and Morty titles, we worked closely with the licence holder and had access to various assets including Pickle Rick. The character's drawings come across as quite graphic in the show and we were able to replicate this for the gameplay.
Building features around Pickle Rick helped to make our Rick and Morty content more sinister and darker. In Rick and Morty WubbaLubba Dub Dub, Pickle Rick is prominent in activating the game's bonuses and reel modifiers.
Why do you think sinister type slots have such a wide appeal?
Players are looking for a greater variety of choice these days. Online casinos offer an abundance of games, but quantity is redundant when they're offering multiple versions of the same themes.
There's an element of risk for operators to offer new themes which are unproven, the safer option is to stick with tried and tested formulas. However, it's important we don't stand still and we encourage operators and players to embrace other concepts.
Classic themes remain a key part of our product roadmap, largely driven by the fact we're the leading developers in this area of slots provision. However, if there's demand from operators for us to create more sinister style slots, we'll of course explore how we can achieve this.
The success of Rick and Morty demonstrated to us that we're capable of delivering quality, darker-themed games.
Denise Rejec, Marketing Manager at GameArt
Denise, Spooky Graves was recently released by GameArt. Could you tell us more about the idea behind it and some of its stand out features?
I can definitely highlight GameArt's Halloween game, Spooky Graves, which was released on October. It's a 5×3-reel slot game with 25 paylines in which the four high-paying symbols take the form of zombies and vampires. The scene unfolds in a misty graveyard with animated tombstones. The main feature in this game is the Grave Digger Bonus, which also ties in with graveyard theme of the slot and is triggered by landing over three scatters in the base game.
Another cool feature is the Wilds display at the top right of the game that shows which symbols are acting as Wilds during the bonus round. The bonus game comes in the form of a chest reveal style screen where the game reveals a selection of prizes one at a time. Prizes include +1 Free Spins up to a maximum of 10, and up to three symbols that act as wilds in Free Spins.
GameArt has another sinister slot in the portfolio – Circus of Horror. That looks pretty dark!
We released Circus of Horror in February 2019, and was the first slot to feature our immersive player interface. It's all about the macabre with vampires, mummies, necro nurses, chainsaw wielding masochists and a two-horned beast. The macabre theme culminates in the Electric Chair bonus game that is triggered by landing three or more Nosferatu Bonus symbols.
What is it about dark themes that fit in well with slot design?
Horror themes have been a popular choice for slot game designers for decades. With the genre being popular with movie-goers since the early years of cinema, and the present-day popularity of vampires, werewolves and gothic themes, horror slot games are some of the most enticing games available.
How do you use horror themes and motifs to build momentum during gameplay?
We use sound effects and music to create suspense that builds up to the bonus game and other special features. We also throw in ghoulish graphics and random features with things such as razor-sharp knives and blood, for example in Circus of Horror. These, together with audio create provide an effective thrilling experience during gameplay.
Can slots be used to tell horror stories?
Definitely. Slots can be used to tell horror stories. At GameArt, we strive to come up with our own stories so we tend not to rely on what's already out there. Our product and arts teams are excellent at coming up with original characters and art work, and we're always very happy with how a little idea evolves into a successful, new story.
How can slots reflect the sinister qualities of iconic horror characters?
Our clown in Circus of Horror is reflective of the iconic bad clowns we see in movies. It might even recall the horrifying clown It, also known as Pennywise. There is a whole load of characters from horror film or literature that can serve as inspiration to slot designers. Based on the popularity of our slot games Money Farm and Money Farm 2, with its attractive main character called Chicken, we plan on making a horror version of that.
Michael Maokhamphiou, Operations Manager at Lightning Box
Michael, why do you think spooky type slots are so popular right now?
Let's face it, we all like to be scared, whether that's a ghost story when we're a kid, a horror movie at the cinema, or a good thriller on the TV. Like the best themes, it also crosses culture. You see dark clouds cross a full moon, hear an owl hoot or a floorboard creak and appreciate the heightened sense of tension wherever you are in the world. Everybody gets it.
That's because it is a genre with universal appeal and instant recognition. We come to appreciate it from a very early age. Novelty and a sense of something new is important in slots, but never underestimate familiarity. Slots are entertainment and people like to be entertained by something they know and feel comfortable around. With a spooky slot they know exactly what they're getting, on a thematic level at least, from the thumbnail picture on the Casino website.
Do dark themes fit in well with slot design and, if so, why?
There's no reason why they can't. I think a site full of them would be overkill for most people, obviously, but a few scattered around make perfect sense. After all, people's mood changes and they play at different times of the day too. You might not play one first thing in the morning, but a bit of late-night horror appeals to many of us. The trick for any operator or supplier is to strike a balance. A broad portfolio with a variety of themes, game types and features ensures there is something for everyone.
How are dark themes incorporated into slot design to drive player engagement?
Maybe one of the under-rated aspects of slot design is atmosphere. By that I mean the creation of engagement, excitement and the communication of suspense. In terms of suspense, I'm talking about building anticipation that you might hit a feature or scoop a big win. But of course, suspense is a key element to horror films and spooky stories as well.
There is a natural fit between the two, which is perhaps harder to create if you have a slot based on a field full of cute bunnies hopping around, or something similar. I think a lot of that tension and sense of anticipation is built up by the game's music and sounds. Again, this is very similar to darker themed movies or plays when the musical score is designed to send shivers down your spine.
What spooky slots does Lightning Box offer and what are you working on?
Our most played spooky slot – and one of our most popular in general – is Lightning Horseman. We launched it in July 2018 as an exclusive with Betsson initially and it really took off when it went out to the rest of the network a few weeks later.
As the title suggests, it features a headless horseman who roams around in a dark wood, with his pumpkin head tucked under his arm, like the highwaymen of yesteryear. There are other mythical creatures too and a Lightning Respin feature which really ramps up the wins for players. I wouldn't say it's scary as such, but it definitely appeals to people who like things a little darker, as opposed to some of the light and fluffy stuff!
How can a slot reflect the dark qualities of iconic horror characters in a way that is fun at the same time?
Slots are by their very nature animated and therefore a comic-book presentation of history, the natural world, spooky stories, or whatever the individual theme dictates. Personally, I think that says 'fun' from the start because we associate that style of presentation with something light-hearted and enjoyable.
Obviously, people enjoy being scared and not knowing what's behind the door in the haunted house too, otherwise Hollywood wouldn't have made as much money from horror movies as it has. So, the key is probably to combine the light-hearted aspects of animation with the tension of not only the maths mechanic, but the atmosphere generated by the characters the game features and the soundtrack that sets the tone.
Jerry Wilson, VP Creative at High 5 Games
Jerry, what sinister slots has High 5 created and could you tell us about their specific design and some of the key features?
Realm of Hades: Featuring our Racking Up Riches feature, players will journey into the underworld ruled by Hades. First players will have to make it past the three headed guard dog Cerberus before they have a chance to rack up huge wins in the bonus round and stand before Hades himself. In this round Hades can grant players "one more chance" triggering our re- spin feature for another shot at big wins.
Caught in the Widow's Web: Featuring our Double Capture and Activated Scatter Pay features players enter a world of mystery and murder as they try not to get caught in the web of our beautiful villainous widow. As you play, you discover the suspicious deaths of all of her previous suitors as you explore her dark mansion and try to make it out richer than when you arrived.
What is it about horror themed games that grab the attention of the player?
People have always been excited to be able to tap into their primal fears in a safe way. The balance is to find a theme that feels intriguing and ominous but also make it some place the player wants to stay for a while.
Alien is one of my favourite horror films because it's not gore that scares you, it's not knowing what's lurking in the shadows or behind the next corner. The mystery of what awaits you is the most interesting thing to me about horror, and something I am mindful of when creating our games.
How do you build dark themed features and use horror themes to build momentum during gameplay?
The theme should always be in service of the gameplay, figuring out the best way to highlight the features through the narrative. In Realm of Hades for example, the Racking Up Riches feature can stack symbols all the way to the top of the screen during the bonus round, so we wanted to tell a story that naturally would drive players towards the feature.
So in normal gameplay you're at the gates of Hades with Cerberus watching over you, each win triggering a head of Cerberus to come alive.
Once the player has three wins, they are brought before Hades, a giant figure filling up almost the whole screen, as tall as the symbols stack up in the Racking Up Riches feature.
We wanted the art to have the same epic scale we feel the feature itself has and this was the best way for us to visualise this. Even the "One more chance" feature is in the context of Hades himself giving the player another chance to have more wins rack up.
Can slots be used to tell horror stories?
Without a doubt. It's almost perfect as most slot games have a bonus round or special feature that is the climax of the gameplay, making it the perfect event for your big reveal of what's been looming and lurking in the shadows around the player during the main game.
David Mann, Chief Commercial Officer at Swintt
David, Zombies on Vacation combines horror with slot play in a light hearted way. How do you balance the fun and scares?
We released Zombies on Vacation at the beginning of October so that we could include the slot in our Halloween-themed game portfolio. We believe it is important to provide our operator partners with seasonal titles so that they can run promotions around these games and drive player engagement and entertainment during the period.
With Zombies on Vacation, we wanted to create a game that fit with the Halloween theme but that was more than just a scary slot.
To do this, we created a back story about zombies taking time off from terrifying the living to visit an amusement park to have some fun themselves. While people are frightened to see the zombies at the theme park, they soon learn they can't hurt anyone while there.
This brings an element of fun into the game while still making sure that it is instantly recognisable as a Halloween themed title.
How do sinister themes or iconic characters such as zombies add to the overall experience for players?
It is similar to watching horror movies in that people enjoy being scared but while being in a safe place. Horror-themed slots work in the exact same way – they are designed to raise the hairs on the back of the player's neck and to get their spine tingling, but in the safe environment of their home or wherever they may be playing from. Operators offering Halloween-themed games can play on this desire to be frightened and slots such as Zombies on Vacation to run promotions and marketing campaigns during seasonal events.
This taps into the excitement that builds in the run up to and during the seasonal period and delivers more value to players while also allowing operators to leverage opportunities presented by the Halloween or seasonal period.
Why do horror themed slots work so well in terms of design, gameplay features and bonuses?
Dark colours always work well on desktop and mobile screens, and horror themed slots give our designers the opportunity to go big on dark colours. There is also a lot of scope for developing narratives and stories around the theme, which are then built into the game.
From this, mathematicians and developers can then get creative with special features, bonus rounds and the overall gameplay to make sure the player's heart is in their mouth from the very first spin of the game to the last.
Why do you think slots with a dark theme are so popular with players?
Dark colours are easy on the eye – think about dark mode on your iPhone if you have one – and allow players to play for longer regardless of the device they are on. These colours also help to immerse players in the narrative and story and to provide a truly frightening yet thrilling experience.
Do you think that we will see more of your horror themed games in the future?
Absolutely! Zombies on Vacation has proved to be something of a blockbuster for our operator partners that launched the game to their players so we will certainly be working on another Halloween-themed slot for next year. We also have other themed slots in our product roadmap, so be ready to unwrap the next title in our themed portfolio in the near future.
Kate Puteiko, Customer Service Marketing Manager at BGaming
Kate, what sinister slots does BGaming have in its portfolio?
As the name suggests, our most sinister slot is Lucky Dama Muerta – or Lady of Death. At the same time, although it sounds intimidating, Dama Muerta is the main guest of the bright Mexican holiday Dia de Los Muertos holiday. And the slot itself is more saturated with a festive mood and carnival music. Although skeletons are present in the game itself, they are quite friendly and even a little in love.
What is it about dark themes that fit in well with slot design?
I think dark slots give a good contrast and focus on the reels themselves, on the gameplay, on the game elements, but I think that some light background still works better in the long run, as, for example, in our recent game Candy Monsta.
The background blur effect allows you to focus on the game itself and it doesn't make you feel tired during the playtime.
How can a slot reflect the sinister qualities of iconic horror characters?
Let's be honest, everyone has a dark side – both the characters and the players themselves, and we can not always expose or show it, but when you play, for example, the atmospheric Halloween slot Spin and Spell, then there is a character similar to Count Dracula, you see both an ominous grin and kind eyes – such honest characters definitely find a response deep inside the players' hearts.
How do you use horror themes and motifs to build momentum during gameplay?
that only horror is difficult to catch, it is difficult to create the correct spread of emotions so that they truly capture the players. In addition to horror and something terrible, you need to give something cute and kind, for example, the scatters in the game Lucky Dama Muerta are like scary skulls, but we give them humanity and make them fall in love with a beautiful lady, and now it becomes the whole new story.
Why do you think sinister type slots have such a wide appeal?
Probably it's because they give us some emotions that we have already forgotten while living in comfort and confidence. I mean all these childhood feelings that made us feel alive and excited. Sometimes I like to plunge into the game, launch Spin and Spell or Candy Monsta and give free rein to my inner child and these mixes feelings of fear and admiration, horror and excitement. You should try it yourself!
SimplePlay
Is Zombie Hunter a sinister slot and what are some of its stand out features?
Zombie Hunter was developed when the zombie theme was really popular in Asia. There were some blockbuster Asian zombie movies. Our Product Team came up with the idea of merging the zombie theme and Hot Model Slots, one of our special game genres. Our Hot Model Slots feature real gorgeous ladies – they surely are eye-catching.
For the game itself, one of the stand out features is that there is a Bonus Feature which is a journey of seeking anti-virus. Players can choose one of the three hunters to complete the journey. With only 3 shots, they have to survive 8 turns in order to find the anti-virus. This is something out of the slot reels. Whether a zombie appears at each turn gives a real thrill to the players.
Are there any other sinister slots that you would like to highlight and tell us about?
"Candy Witch" is our major release this year. It features a little girl trying to confront the evil Candy Witch. As a featured game for Halloween, there are spooky festive elements like pumpkins and candies.
Our game designers adopted the idea of collecting candies on Halloween into this game. Instead of entering the Free Game whenever a certain number of Scatters appear on the reels, players have to collect dozens of Scatter symbols in order to trigger Free Game Feature.
And there are two types of Scatters – one for the heroine, and one for the Candy Witch. Both Scatters lead to a duel between the two ladies, with different bonuses. Candy Witch Scatter allows Wild Symbols, while Heroine Scatter allows multipliers stacked up every spin.
And both scenes are opened by a glamorous transformation process of either the Candy Witch or the heroine. The theme is a bit dark, but the game generally gives a relaxing experience to players.
Why do you think slots with a dark theme are so popular?
It is the uncertainty that gives a sense of attractiveness to slots with a dark theme. Our game designers associate the chance of winning to the uncertainty of horror in these slots. The volatility gives excitement to the players. The availability of choices also retains players for another go.
Like in the Bonus Games of "Zombie Hunter", players can choose to turn left or right at every "spin". They may be able to secure the anti-virus, or they may suffer from a defeat when they run out of ammo. As most players at slots enjoy that rush of adrenaline, the thrill they can get from dark themes is perhaps why they come for these games.
Do you think that you will develop more sinister themed slots in the future?
We are open to all themes of slots, and sinister themed slots are no exceptions. If the market responds positively to this theme, we certainly will give priority to it when we draw our product plan. In fact, we have been working on this theme as there are related titles released regularly. We have "Creepy Cuddlers", then "Zombie Hunter", and the recently released "Candy Witch".
How are dark themes incorporated into slot design? How can sinister themes help drive player engagement?
Dark themes are in fact favoured by our artists. When the background applies a darker colour, any colour, light, or effect would look spectacular due to the huge colour contrast. It naturally gives a sense of mystery to the players, of which some of them are attracted by this sense.
To achieve player engagement using sinister themes, our game designers made use the common element between horror and gaming: the uncertainty. In Bonus Games of "Zombie Hunter", when a zombie pops up and the hunter kills it with a bullet, a multiplier is awarded. If the hunter has run out of bullets, the Bonus Game ends. It is the uncertainty that draws players to these games.
These themes are characterised by a touch of mystery, and players would like to reveal the truth behind the mystery – make all uncertainties certain!
How do you get the balance right between fun and horror?
Our theme may be dark, as there are dark elements like skeletons, zombies. But if we take a closer look, our main characters are always lovely. The heroine and Candy Witch in "Candy Witch" are certainly characters you would love to meet in real life.
The same is true for "Zombie Hunter". Look at the hunters – they are simply hot – as suggested by our sub-genre Hot Model Slots. We think that the key to getting the balance right is to apply lovely main characters, accompanied by elements of horror as background and supporting characters.
The second approach is to associate horror to fun directly. Take the Bonus Game in "Zombie Hunter" as an example. Zombies do appear randomly and suddenly, perhaps in a quite scary way. However, when it appears, the hunter can kill it and this means more payout. The appearance of a zombie means a prize. In this way, players will focus more on winning instead of the horror itself.