By
Phil
- 15 April 2014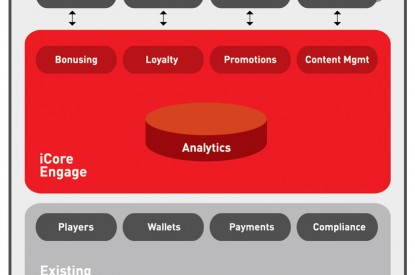 ComTrade has added the iCore Engage to its growing portfolio of enterprise-level gaming platform products.
It is designed primarily for large gaming operators who already have their own online platforms, but want to expand their existing solutions with features that would offer additional benefits to players, and thus increase their engagement and elevate the operator's business value.
iCore Engage takes the operator's offering to another level by introducing immediate responses to a player's gaming activity by delivering promotions while they are still engaged in game play. This ensures increased average spending and steers the player's lifecycle in real time. An effective cross-sell between multiple products and channels regardless of the content supplier allows for better marketing optimisation and product cross-selling by attracting and rewarding player's migration. High personalisation and optimisation of web and mobile portals with central product configuration and content management enables an enriched customer experience.
Ales Gornjec, General Manager at Comtrade Gaming, said: "We have a highly advanced technology in the area of bonusing and loyalty programs for the gaming industry. That being so, we decided to design a product, namely iCore Engage, which allows a non-intrusive integration of key iCore benefits on the operator's existing platform and player data without changing the overall system."