By
William
- 20 April 2020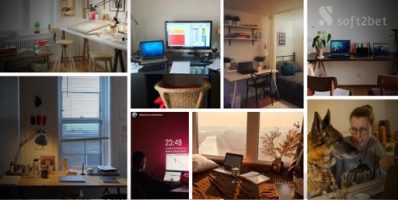 As the current global situation continues to affect the gambling sector, G3 Newswire spoke to Oksana Tsyhankova, Operations Director at Soft2Bet, about the growth of the company, its adjustment to remote working, and the ways in which it is helping to protect its employees during this complex period.
How has the global COVID-19 pandemic affected Soft2Bet's operations and were there contingency measures in place?
As a multi-national business, our contingency planning has been in effect from the company's inception. Our daily communications utilise Skype, Zoom, and email, and our prudency has been key to a safe and solid transition to a new working environment. In 2019, we focused on development and the quality of our products: customer service improvements, direct integrations with providers, and the strengthening of our positions in local markets. We entered 2020 with a new business strategy which provided us the flexibility and preparedness that is now paramount for every company.
By its very nature, our business was designed with diversification in mind, and incorporates a vast array of opportunities, giving us very solid foundations. The postponement of events during this situation has also led to innovation. Our in-house software R&D team have been working tirelessly and continue to gain a competitive edge, and our casino product usage has increased while running parallel to the launch of quality new brands. Our enhancement team is focused on meeting players' needs, and our casino managers and commercial teams continue to build strong relationships with providers as we help deliver bespoke, localised products.
What steps are being taken to ensure any economic impact is as limited as possible once the crisis is over?
One of the core tenets of Soft2Bet was to ensure we were never dependant on financial institutions. Preparation has allowed us to reinvest in the company, helping develop a reserve to ensure the group's stability. It was always part of our contingency plan to ensure that any fluctuations in the gambling sector, or unpredictable global situations, would have a minimal economic impact on the business.
From an economic perspective, are there any opportunities that may arise from this difficult period?
While some companies are downsizing, we are currently hiring new talent. We have learned how to onboard newcomers online, and how to immediately involve them in the workflow. Every week we sign a new B2B deal, consider proposals to purchase brands, and help our companies with local licences. And I'd like to emphasise for the whole industry that we are open for negotiations and any business opportunities.
How has the company adapted to remote working?
At Soft2Bet, we're safe in the knowledge that both our employees and our business partners are being taken care of. Our main priorities right now are people and partners. The company's technological infrastructure was already in place due to our ISO 27001 certification, and all processes are in line with information security policies, no matter if you work from the offices or from home. Being a multi-national company, which employs 350 people, with offices in three different countries, we are perfectly adept at using online sync-ups, for conferences and calls. Once quarantine was announced we provided our people with everything necessary for working remotely.
How is morale amongst staff at this difficult time? What help are you providing employees should it be required?
It's inevitable that people needed to get used to a new way of working, but our dedicated staff adjusted to the situation incredibly quickly. Some of them took their office accessories and chairs to help recreate their personalised workspace. For those who communicate a lot we provided professional headsets. Team leaders are greeting their teams in chats, with scheduled sync-up calls to keep a consistent personal connection and monitor performance. HR managers and mentors are available to help with any individual requests, and we are actively assisting people with medical needs, equipment delivery, all while adhering to the governmental protection measures necessary. We are helping train all our newcomers online and welcoming them into the new working environment.
The key is transparency. Every member of the team, from the top managers down share news and results, and we are taking more responsibility for each other in the current situation.
At Soft2Bet, while the world may currently be learning to adjust to these unprecedented times, our key tenets have not changed, and we are proud of our ability to grow under any circumstances.