By
Phil
- 19 June 2012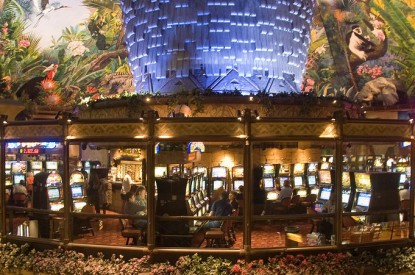 Suggested changes to how South Africa's income tax is structured could mean tighter margins for the country's casinos.
A national tax based on Gross Gambing Revenue could be introduced from April 2013. Proposed amendments detailed in the February budget revenue by Finance Minister Pravin Gordhan would also see all gambling winnings above R25,000 taxed at 15 per cent. An extra one per cent tax will be levied against hotels which have casinos as part of their revenue stream as from April next year.
Nikki Forster' Price Waterhouse Cooper's South African hospitality and gaming analyst' said the industry should 'brace itself' for the new tax, which she said would eat into profits.
"Undoubtedly it is a relief for the industry that the government has scrapped plans to introduce a withholding tax as this would have had a negative effect on the sector' particularly high-stakes gamblers'" Forster said.
Instead, it is proposed that a national tax based on gross gambling revenues be introduced from 1 April 2013, as an additional one levy on top of an existing provincial gambling base. A similar base will be used to tax the national lottery. However, there is currently no detail available on how the proposed tax is to be calculated or collected.
Mrs Forster said that the proposed additional gaming tax would eat into profits margins of casinos. The industry already has a levy in place on gaming plus Value Added Tax (VAT) and income tax. "This is just another one per cent above that, meaning that profit margins will be squeezed significantly at casinos, particularly at smaller casinos," she explained. "To add another one per cent is extremely punitive for the industry. The fiscus is getting a big enough share of the pie already from the industry."
According to Price Waterhouse Coopers it was only a matter of time before the Government looked for another potential source of revenue. South Africa already has sin taxes in place for the consumption of tobacco and alcohol. The purpose of the new law is to expand the tax base and to increase the source of revenue.
Kyle Mandy, PwC Head of National Tax Technical, explained: "If a person wins the National Lottery, or on occasion wins money from betting on a horse race or in a casino, such winnings are usually capital in nature, and not subject to income tax and capital gains tax."
However, if a person regularly engages in gambling activities, the South African Revenue Service (SARS) may consider them to be a professional gambler, said the National Tax Technician. The winnings from such betting transactions will be considered to be gross income and subject to income tax.
The Government needs to take into account the significant contribution the industry makes to the state coffers and should approach with caution imposing further taxes and restricting regulations which may threaten the profitability of the industry and may have an impeding effect on job creation, warned Mrs Forster. She points out the proposed new tax may have a negative effect on the creation of jobs.
South Africa's casino industry saw its GGR increase by five per cent in 2011 increased to R17.14bn from the previous year's R16.268bn. The sector generated R4.5bn in gaming taxation during the year which was paid to central government.
The National Gambling Act allows 40 licence casinos, with 37 casinos currently operating across South Africa. "This leaves little room for further expansion," said Mrs Forster. "Nevertheless, we do expect new investment in the casino market."
Related Stories