By
Phil
- 3 April 2017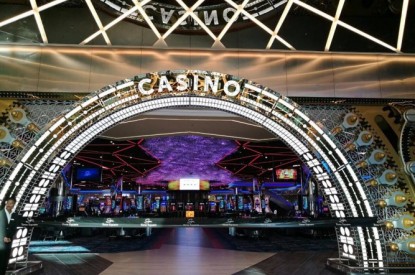 South African operator Sun International has now opened its Time Square Casino in Menyln Maine.
A grand opening on April 1 saw the casino open with 60 tables and 2,000 slots along with 18 new restaurants and bars. The next phase of the project will see a state of the art Arena open with 8,500 seats. This venue should be completed in November and will be followed by phase three, next year with the Maslow Time Square hotel.
The casino has become the second biggest in the country. Its opening follows the publication of Sun's latest financial figures. Sun International grew its revenue by an impressive 31 per cent to R7.7bn in the second half of 2016, with the strong growth attributable to the inclusion of Dreams S.A. and GPI Slots' operations for the full period.
South African revenue continued to be impacted by difficult trading conditions and reduced consumer spend. Excluding revenue from GPI Slots, comparable revenue was flat on the back of lower casino revenues. Sun City and the Table Bay continued to benefit from an increase in international tourism which helped boost rooms revenue by 14 per cent.
Growth in Chile slowed over the six months with Sun Dreams' revenue up one per cent in local currency. Monticello was impacted by the relocation of the toll road to the Santiago side of Monticello, making it more costly to reach the property, whilst Iquique, which is located in a copper mining region, was impacted by the weak copper price.
Group CE Anthony Leeming said: "We've made good progress with some key initiatives during the past six months. In particular, the country's second largest casino, Time Square, will open on time and in line with its R4.2-billion budget in April. The Arena will open in September this year and the hotel and conference centre in April 2018. Time Square will be key to our portfolio and to our growth in South Africa."
"We increased our interest in GPI Slots to 70 per cent during the period and completed the upgrade of the entertainment and conference centre at Sun City in November 2016."
EBITDA increased by 24 per cent, however on a comparable basis it decreased by 12 per cent.
Prevailing economic conditions negatively impacted the group's core casino operations in South Africa, with casino revenue down 2.7 per cent on the back of a weaker than expected December trading period. While the group's International VIP Gaming Business result was impacted by a low win percentage, GPI Slots continues to trade well, with revenue up 10 per cent. With comparable revenue (excluding IB and GPI Slots) flat on the prior corresponding period, EBITDA from South African operations was down eight per cent EBITDA was also impacted by a R34m charge relating to the temporary conference centre at Sun City which was used during the renovations.
Lower gaming revenues at GrandWest resulted in a revenue reduction of two per cent. Costs were well managed with the decrease in EBITDA contained to three per cent. An events and exhibition facility has been opened and will help drive significant footfall. Upgrades to the gaming floor have taken place including the establishment of a VIP gaming area. Total revenue at Sun City increased seven per cent with gaming revenue up three per cent and rooms revenue up 10 per cent. EBITDA decreased by 48 per cent, mainly due to the non- recurring rental cost of R34-million for the temporary conferencing facility.
Sibaya will be opening new restaurants and a Sun Park, and an expansion of the gaming area is under review. Despite increased footfall, gaming revenue at Carnival City declined by eight per cent largely as a result of a drop in average spend and a 16 per cent drop in tables' revenue.
Carnival is undergoing a refresh of its retail and food and beverage offering and a Sun Park exhibition and eventing facility has been completed. Competition from Electronic Bingo Terminal (EBT) operations within the Boardwalk's catchment area and a weak regional economy continue to impact gaming revenues. Revenue decreased by five per cent and EBITDA by 24 per cent. Costs excluding gaming taxes were up by two per cent.
In local currency, the Chilean operations (other than Iquique and Monticello) performed satisfactorily. Overall revenue from Chile increased by one per cent and EBITDA was down by 1.5 per cent.
At Iquique, costs are being reduced which should have a positive impact on margins. At Monticello, the casino system was replaced in July 2016, and a new arena, additional smoking terrace and bar are due to open in June this year. The bidding process for the Chile municipal casino licences has been delayed following their High Court's decision to hear objections from a number of third parties. As a result of the delay, the municipal licences will be extended to 31 December 2018 in the event a new licence is not ready to operate before then. Sun Dreams is planning on bidding to renew its two licences, as well as bid for additional licences. Due to the restrictive banking practices in Panama which restrict the Ocean Sun Casino from receiving or paying out money, the VIP operations have been kept to a minimum. This situation was largely resolved towards the end of 2016 which should have a positive impact on trading going forward. The environment in Nigeria continues to deteriorate and as a result, revenue during the period, decreased by 39 per cent while EBITDA recorded a loss of R1m compared to the prior corresponding period's R18mprofit. Sun International is pursuing its decision to exit Nigeria.
Looking ahead Leeming said: "We expect gaming revenue in South Africa to remain under pressure given economic conditions. However, we do anticipate hotel occupancy to grow for the remainder of the year, boosted by the refurbished conference and entertainment centre at Sun City, where forward bookings for conferences are well up on last year. We are also looking forward to the opening of the casino at Time Square, which we expect will have a positive impact on the group's performance going forward."
"In Latin America, the Chilean economy, although still experiencing low GDP growth, is showing signs of improvement with an increase in the copper price and low inflation and interest rates. Although trading in the early part of 2017 has remained subdued, it is expected to pick up towards the end of the year."
The group's main focus in the immediate future will be to reduce debt and bed down the implementation and integration of recent acquisitions.