By
Phil
- 3 August 2018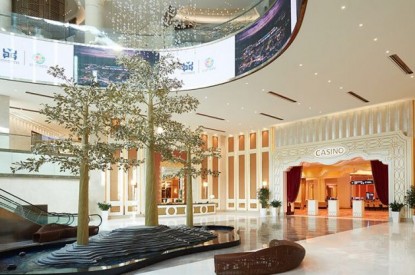 South Korean casino operator Landing International has managed to increase its gaming revenue by 360 per cent having relocated its Jeju gaming licence from Hyatt Regency Jeju Hotel to Jeju Shinhwa World on February 25 2018.
The company stated: "Landing Casino has been attracting many customers from the Asian region and ramping up its efforts to enhance the gaming experience for its customers. The gaming floor area increased to approximately 5,500 sq. m., which is about seven times larger than its previous location at Hyatt Regency Jeju Hotel, and offers customers a total of 155 gaming tables together with 147 cutting-edge slot machines and electronic table games. Since its relocation on 25 February 2018, Landing Casino achieved gross revenue of HK$1,998,702,000, with the total rolling volume of approximately HK$66bn and a hold rate of 3.2 per cent."
Since progressive opening in 2017, the hotels in Jeju Shinhwa World welcomed many guests from Korea and the Asian region including China, Taiwan, Hong Kong, Macau, Japan, Singapore and Malaysia. With the continuous promotion and ramping up of its hotel business, the hotels in the resort recorded increasing occupancy rates since its opening.
Likewise the Shinhwa Theme Park has attracted thousands of visitors from Korea and the Asian region. In an effort to attract and drive more visitors to the theme park, it organised series of events including a New Year Eve Countdown Party and a 2018 FIFA World Cup Football event. It also introduced new rides and attractions like the Ice Rink in winter months, bumper cars in summer months and has featured a daily theme park
characters parade.
The MICE business continued to maintain significant growth momentum through experiential offerings. During the period, Landing Convention Centre hosted several high-profile regional and national events. Its corporate and international clients were global market leaders from the pharmaceutical, financial and communications industries.
Landing will start work on the US$1.5bn NayonLanding within the Entertainment City in Barangay Tambo, City of Parañaque, the Philippines next week, having being given a gaming license by PAGCOR.
The company stated: "The US$1.5bn family-oriented integrated leisure and entertainment resort will be named NayonLanding and will consist of a casino, an indoor cultural theme park and waterpark featuring the Philippines' rich history, culture and heritage, Asia's first and largest indoor movie-based theme park, a world-class state-of-the-art convention centre, luxury hotels and international retail and dining. The groundbreaking ceremony is scheduled to be held on 7 August 2018 and NayonLanding is expected to be completed and open in early 2022.
"Following the successful opening of Jeju Shinwa World, this investment is an ideal opportunity for the Group to strategically expand its footprint into Southeast Asia, hence taking a major step towards the company's aspiration to be a leading premium integrated resort operator in the region. According to the Department of Tourism of the Republic of the Philippines, Korea and China are currently the two largest sources of tourism to the country. We expect that NayonLanding, when open, will be able to leverage the growing brand equity in Jeju Shinhwa World to attract more Koreans and tourists in the region."