By
Phil
- 13 September 2018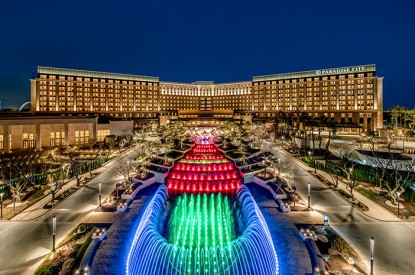 Paradise Co will open the second stage of its phase 1 development of its Incheon integrated resort, Paradise City, on September 21.
These total a combined 110,000 square meters and include Plaza – the shopping arcade, Cimer – a spa facility, Chroma – a night club, Art Paradiso – a suite-room only boutique hotel and Paradise Art Space – an art exhibition hall.
Wonder Box, an entertainment theme park for children is set to open in the first half of 2019.
The property, owned in partnership with Japan's Sega Sammy Holdings, opened its casino and an initial hotel in April 2017.
Paradise Sega Sammy President Park Pyung-yong said: "With the second-round opening of the Paradise City, we aim to vitalize the sluggish tourism industry here as well as increase the number of inbound travelers, ultimately making Paradise City a one-stop K-style destination."
Paradise CEO Park Pyung-yong said: "We will emphasise the entertainment aspect through our second phase opening, becoming a key tourism landmark of South Korea based on a differentiated infrastructure and hallyu content."
The new hotel will be called Art Paradise and will bring 58 rooms to the resort including duplex rooms with an adjoining restaurant, bar, private spa and fitness facility.
Cimer is a European style-concept spa and Korean-style sauna jjimjilbang complete with an infinity pool and outdoor spa zone on the third floor, as well as and an aqualoop waterslide on the fourth floor.
Nightclub Chroma is described as the largest club in Northeast Asia with capacity for 3,000 people and a roof top designed to look like an Ibiza beach club. Studio Paradise meanwhile is a 'cutting-edge film studio' for movies and TV dramas.
"Paradise City will continue to aim to become a central resort facility in Northeast Asia by delivering a best-ever moving experience to every visitor with highly sophisticated spaces integrating art and entertainment, as well as top-class hospitality," the company said.
Paradise predicts that the new facilities will attract 4.8m visitors in a year, with a sales target set at 500bn won (US$445m) in 2019. The resort attracted 1.2m visitors in the year after its opening.
Ahn Chang-wan, Chief General Manager at Fun City, added: "Despite a fall in Chinese visitors following the THAAD (Terminal High Altitude Area Defense) row, the number of visitors from Southeast Asian countries have significantly gone up, and we plan to target those countries to attract more foreign tourists. The opening of additional facilities will also create some 800 more jobs after some 1,700 were employed last year (for the grand opening.) Through Paradise City, up to 780,000 jobs will be created and it will make 8.2 trillion won of sales over the next 50 years."