By
Phil
- 3 April 2014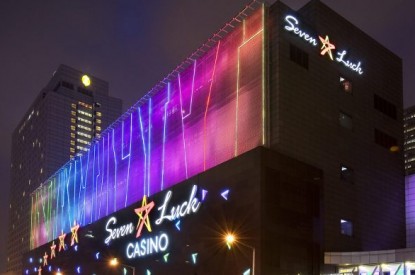 The Seven Luck Casino in Seoul has upgraded its video system to state-of-the-art HD network technology and has chosen a solution by Dallmeier for the purpose.
The Seven Luck Casino is located in the centre of the Gangnam district of the Seoul metropolitan district, in South Korea. Over 70 gaming tables and more than 100 slot machines accommodated in more than 6,000 m2 offer a wide variety of gambling entertainment in an oriental ambience, 24 hours a day, 365 days a year.
When the casino's operating company, Grand Korea Leisure (GKL), decided to replace its existing analogue video system with ultramodern, HD IP equipment, the first thing the security managers did was institute an exhaustive selection procedure. The products of many highly respected manufacturers were tested thoroughly. They were evaluated not only with regard to reliability and picture quality, but the programme also included for example temperature and moisture testing of the cameras. Finally, the managers chose a solution from Dallmeier that was developed jointly by the company's office in Korea and its headquarters in Regensburg, Bavaria. "The Dallmeier solution is considered to be one of the most reliable casino security systems on the market, and the technology also lived up to its reputation in our tests," said the IT manager at GKL.
Now, more than 510 HD cameras keep a watchful eye over proceedings in the foyer, at the gaming tables and the slot machine areas, the VIP room, the cash centre, and even the casino car park. Box cameras, dome cameras or PTZ cameras from Dallmeier are installed according to requirements.
Images are recorded in real time at a rate of 30 fps on high-performance Dallmeier appliances and blade recorders, each with an integrated storage system. To guarantee the highest possible degree of availability, Dallmeier devised a remarkable solution for the Seven Luck Casino: besides the use of Linux-based appliances, the pictures are also stored redundantly on Windows-based PCs with the aid of the Smavia Recording Server Software, and from there they are sent to a single MASS storage.
Jeon Yongwan, General Manager, Dallmeier Korea, said: "This way, we can guarantee the highest possible levels of both data security and availability at the same time."
The video installation is controlled by the SeMSy management software, which provides users with a rapid overview of the cameras. From the display of live pictures to search capabilities in the recording to controlling PTZ cameras: SeMSy is not only extraordinarily powerful, it can also be operated simply and intuitively. Control is made even more convenient for the Seven Luck Casino by the addition of VMC-1, a video management system that combines a joystick, keyboard, monitor and jog-shuttle functions.