By
Phil
- 22 December 2016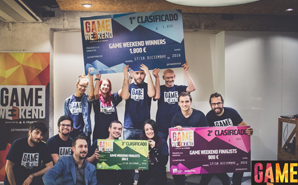 Area 31, the space for entrepreneurs within the IE Business School, recently hosted the second edition of Game Weekend, an event organised by Recreativos Franco in hackathon format where more than 50 participants had to develop a Christmas-related game in just 15 hours.
In this second edition, the criteria upon which the jury founded their award included originality, the highest valued quality followed by prototype quality, design quality and commercial feasibility, among others.
Goodboy was the winning game and, therefore, obtained preferential access to Wanajump Incube, R. Franco's pre-acceleration programme. Developed by a group of young people aged 23 to 39, the game is a breakthrough within the industry of educational games. It is a game with which children communicate with Santa Claus; however, parents manage the conversation pretending to be Santa. Children ask for their Christmas presents and Santa defines the number of sweets they need in order to unblock each present. Then, Santa asks children to meet a series of challenges: drying the dishes, kissing mama ten times, making their bed. Each challenge is rewarded with a certain amount of sweets. A present is unblocked as soon as the child collects enough sweets. Parents' management application then displays different online sites to buy the present. The business model consists of obtaining a certain commission out of each transaction.
In the last month, Wanajump and Game Weekend officials have been making a communication effort and presented R. Franco's new digital initiatives at Universities and Business Schools. This Game Weekend is the first fruit to reap from this effort: the three finalist teams included at least one student from the Higher School of Design of Madrid, Universidad Complutense (Madrid), and participants also came from ESNE, U- Tad, CICE and KSchool, among others.
Game Weekend falls within the strategy to transform Recreativos Franco into new digital business models. This partly includes supporting young talent within the entertaining industry.
Alejandro Casanova, R. Franco's New Business Manager and CDO, was pleased with the results: "We were surprised with participants' level and the premium quality of projects. We appreciate the excellent acceptance this initiative has had, as well as the help provided by our in-house and external collaborators."