By
Phil
- 7 May 2014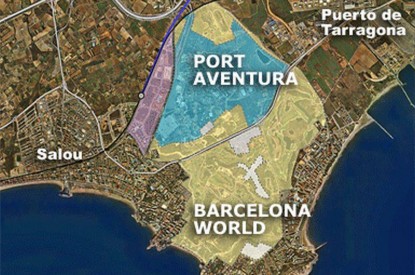 Macau casino developer Lawrence Ho has announced to the HK Stock Exchange (HKSE) that Melco International Development has signed a memorandum of understanding with Veremonte Espana of Spain to operate at least one casino as part of the BCN Dream resort being developed near Barcelona.
The group stated: "Melco International Development has entered into a legally binding memorandum of understanding with Veremonte España to conduct good faith negotiations to conclude a casino management agreement for the operation of one or more casinos to be developed as part of the BCN Dream, a gaming, mixed tourism and integrated resort project."
In addition to casinos, Melco's BCN Dream project is expected to include more than 10,000 hotel rooms, an exhibition and congress centre, theatre, shopping centres, offices and up to 5,000 residential units. The BCN Dream project will be part of the larger BCN World development project, which is currently being developed by Veremonte within the Leisure and Tourism Centre of Vilaseca and Salou, Spain, adjacent to the Port Aventura theme park.
BCN World is expected to include casinos, hotels, convention centres, leisure centres and sustainable cities for innovation. It is intended that the BCN World project will create a world-class entertainment destination in Europe offering the world's best hospitality brands combined with entertainment, sports, shopping and dining venues.
Mr. Ho said: "We believe our company's experience in developing and operating high-quality integrated resorts will enable us to capture business potentials and create value to our shareholders as well as the local markets wherever we set foot."
The MOU provides that the Management Agreement is for a 10-year term with 10 years automatic extension upon Melco exercising a Call Option and subscribing no less than 10% of the equity of Phase I of the BCN Dream project. Phase I is expected to include one or more hotels with approximately 1,800 rooms, business, meeting and conference space, and a casino of up to 35,000 square metres.
As part of the MOU, there is a base fee of three per cent of gross gaming revenue per year, subject to reduced rates of 2.75 per cent and 2.5 per cent of GGR applicable in respect of GGR exceeding certain agreed thresholds and a minimum agreed base fee per year. An incentive fee of five per cent of gaming EBITDA, rising to increased rates of 7.5 per cent and 10 per cent of EBITDA exceeding certain agreed thresholds.
Another of Mr. Ho's companies; Summit Ascent, has confirmed it will increase its ownership in a casino project in eastern Russia, north of China's Heilongjiang Province.
The operator recently reported outstanding financial performance with profit attributable to owners of the company increased by 42.3 per cent to HK$1,596.7m for the year ending December 31 2013, compared with HK$1,121.9m the previous year.
Mr. Ho said: "Melco Group has again achieved spectacular result in 2013, highlighted by the smooth progress of our successful overseas expansion strategies in Asia and Eurasia including China, the Philippines, Cambodia and Russia. The remarkable results achieved in financial year 2013 have been primarily driven by the success of the premium segment at City of Dreams operated under our key associate Melco Crown Entertainment. In view of the strong business performance and cash flow, both Melco and Melco Crown Entertainment have approved the adoption of a new dividend policy, with a view to distributing surplus capital while at the same time maintaining suitable flexibility to support our current and future growth plans, ultimately driving long-term shareholder value. Beyond Macau, we continue to expand our presence in other parts of Asia and Continental Europe. In the Philippines, our new integrated resort in Manila has been officially named after our successful flagship resort in Macau as "City of Dreams Manila" and is expected to open later this year. We have also announced two internationally acclaimed hotel brands at the new resort, namely Crown Towers Hotel and the celebrity-inspired Nobu Hotel. In Cambodia, our associate EGT has maintained its strategic presence in the region with the opening of the standalone slot hall Dreamworld Poipet.