By
Phil
- 9 February 2015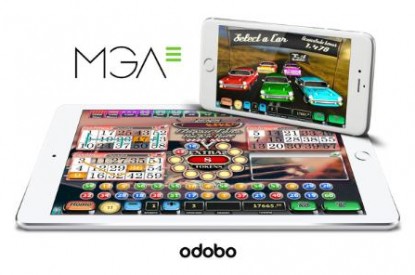 MGA has selected Odobo as development and distribution partner in bringing online games to desktop, tablet and mobile players using the latest HTML5 technologies and the Odobo Game Development Kit (GDK).
Based in Barcelona, MGA is one of the key content providers within the Spanish market and specialises in developing classic online Spanish slots and video bingo games.
MGA pioneered the introduction of gaming machines and the subsequent manufacture of slots and casino games in Spain. As a leading content provider for five decades, MGA is now forging a reputation for developing fast-play video slot games for online. These have ranked amongst the most well-loved games for social play on Facebook with their popularity most notable in Spain, Latin America, Italy, Norway and more widely in Eastern Europe.
MGA's online games division is focused on delivering its international ambitions for mobile content. The new phase of game development will ensure that mobile users, as well as its existing online fan base, can enjoy its tried and tested products.
Anna Wilson, International Sales Manager at MGA, commented: "Our games are ideal for mobile, we have fast play slots with the classic Spanish three reels and the 3×5 bingo cards, so they work really well on small screens. Since mobile is obviously the future, working with Odobo is an obvious and exciting choice. They bring us a fast route to market with big name operators already licensing content from their Marketplace across all mediums – desktop, tablet and mobile. It's the right time to be working together."
Ashley Lang, Founder and CEO at Odobo, said: "Having MGA bring its games to Marketplace is a real privilege. Its games have a distinct pedigree and with our modern HTML5 technologies and toolkit, we're in a good position to open the gateway to players on all devices. Games developed for the Odobo Marketplace are made available to players on desktop, mobile and tablet with just one client build. Games are also added to our new consumer app, Odobo Play, to assist in marketing via a completely new channel. MGA already has hundreds of thousands of players on Facebook alone, and we're excited to be a part of being able to offer these games to new players in regulated markets."
The first games are expected later in the year and on build will ensure that the titles are available to players on iOS, Android and Windows devices.