By
James
- 9 December 2022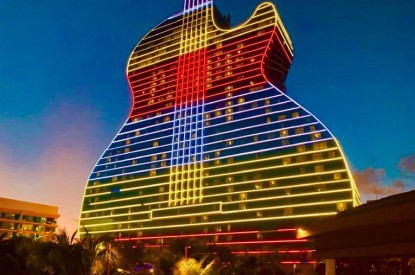 The president of the Catalan Generalitat, Pere Aragonès stated that "the Government of Catalonia is doing its job" to obtain approve of the modification of the Urban Master Plan (PDU) of The Recreational and Tourist Centre (CRT) of Vila-seca and Salou – the planned location of the new tourism and leisure complex.
Aragonès insisted that a "new urban plan" is being worked on, after a ruling by the Superior Court of Justice of Catalonia declared as null and void the 2020 Area Master Plan.
Aragonès pointed out that "the procedures are underway", but that "they have to be done with the utmost rigor, incorporating all the reports and recommendations . . .No one would want there to be a court ruling now that tells us that we have to start over," he said.
The statement  comes after increasing pressure from local lawmakers and business groups who want the government  to expedite the process so that the Hard Rock mega project can get the go ahead.
Recently, a document from the Department of Climate Action was made public, which was unfavourable to the initiative, but the president of the local government stated that the Generalitat had reduced the number of casino licenses from six to just one.
Earlier this month, the Tarragona Chamber of Commerce, together with the municipalities of Vila-seca and Salou, promoted a manifesto demanding the final approval of the PDU to unblock the investment announced ten years ago. This week the mayor of the municipality of Salou, Pere Granados urged the government of Catalonia to support the construction of the BCN World casino complex.
Granados urged the government of the autonomous community of Catalonia to be "proactive" regarding the construction of the casino which would be part of the Hard Rock Barcelona World. The project has been on the table now for over ten years.