By
Lewis
- 29 July 2021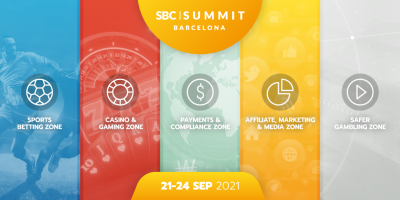 SBC has introduced a Book With Confidence refund plan for its SBC Summit Barcelona event at Fira de Barcelona Montjuic on 21-24 September.
The Book With Confidence promise means that delegates can claim a full refund for their SBC Summit Barcelona pass if circumstances change and they are unable to attend. They simply have to request the refund at any time up to 14 days before the event.
The promise is designed to ensure that anyone who finds that their country's international travel or quarantine regulations change after booking their pass is not left out of pocket. Similarly, if the authorities in Spain impose restrictions that make it difficult for a delegate to attend, they will not lose out.
Alternatively, delegates who find they are unable to attend will be able to transfer their ticket to a colleague free of charge. This can be done at any time up to 24 hours before the event.
Dennis Algreen, Marketing Director for SBC, said: "We're living in a time when travel plans can all too easily be derailed by changes to regulations and we wanted to ensure that our terms and conditions are suitable for the unique circumstances of 2021. And, more importantly, that we treated people fairly.
"SBC's Book With Confidence initiative is designed to do that. It means that anyone who wishes to learn from the expertise of the speakers, make valuable new connections and meet prospective clients at SBC Summit Barcelona can book their pass safe in the knowledge that if circumstances change, they are entitled to a full refund."