By
Lewis
- 21 July 2020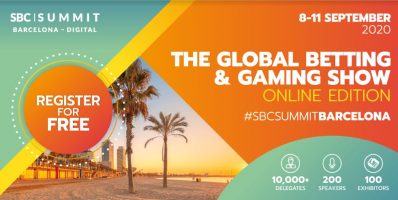 SBC has announced that the SBC Summit Barcelona – Digital 2020 will now be a free to attend event in order to help the industry as it adapts to the challenging times caused by the Coronavirus.
Held on 8-11 September, the virtual event features a conference agenda that encompasses a line-up of senior executive speakers drawn from major players in markets on six continents, and an interactive exhibition showcasing the latest sportsbook, casino, gaming and payments innovations.
Rasmus Sojmark, CEO and Founder of SBC, commented: "As an events organiser, we have experienced just how disruptive the pandemic and the lockdown have been for businesses, but I'm delighted to say that we've had great support from our partners and customers throughout this period.
"Making SBC Summit Barcelona – Digital 2020 free to attend is our way of giving something back and demonstrating our support for the industry. We want to make sure that everyone in our industry will be included in crucial discussions about its future, and that professionals who have been laid-off or furloughed have the opportunity to make new connections and stay up to date with the latest developments."
SBC Summit Barcelona – Digital will feature 10,000 attendees, 200 speakers, eight conference tracks, four days of workshops, 100 exhibitors and four exhibition zones.
Sojmark continued: "The event promises to be a vital forum for senior executives to share their ideas on how to tackle the industry's response to long-term challenges, such as regulatory reforms, problem gambling and the pace of technological change.