By
Phil
- 5 September 2022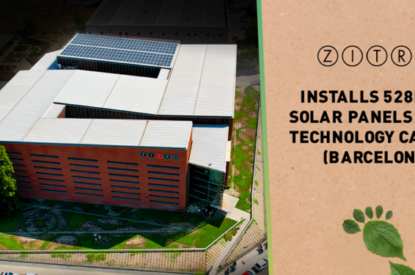 Zitro continues its commitment to the environment and to renewable energies with the creation and implementation of new sustainable policies. On this occasion, the company has opted for the use of solar energy to further reduce the impact of its carbon footprint and provide its offices with 100 per cent renewable energy.
This new initiative consists of 264 solar panels with an area of 528m² installed on the roof of its Technology Campus in Barcelona, producing an estimated power of 120 kW, which will promote sustainability, reduce CO2 emissions, and reduce energy costs. This installation will reduce 82,509 kg of CO2 per year.
Zitro, as a strategy of social responsibility and sustainability, firmly opts for renewable energies to combat climate change and has also managed to reduce 80 per cent of its greenhouse gas (GHG) emissions from energy consumption in software. On the other hand, it is also committed to sourcing environmentally friendly raw materials from local suppliers for the manufacture of its products, which results in savings in the energy used for transportation logistics, considerably reducing its carbon footprint.
"This important commitment is just the beginning of a series of actions aimed at reducing our environmental impact and offsetting our footprint," said Johnny Ortiz Viveiros, founder of Zitro. "The implementation of policies that contribute to protecting the environment is part of our company philosophy. For this reason, we work and promote initiatives that contribute to becoming a greener company, doing our bit in building a more sustainable future. We encourage other companies to join new initiatives that promote the sustainable development of their activities. Together we can make a positive difference."