By
Phil
- 13 March 2023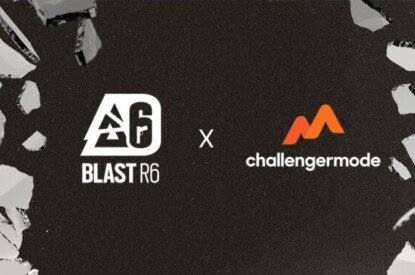 Leading esports platform Challengermode has announced that it will be the official platform for the qualifying process for the BLAST R6 Majors. The partnership will give players from around the world the opportunity to qualify for two of the main international events in the global esports circuit for Rainbow Six Siege, that are to be played later this year, the first in Copenhagen, Denmark in May and the second in the United States in November.
Players from Europe, North America, Brazil, Oceania, South Korea, LATAM, Asia, and MENA will have the opportunity to compete this spring, making this one of the largest open qualifier paths in esports . The open qualifiers provide a way for aspiring players to emerge and showcase their talent, regardless of their background or experience. Qualifiers like these are a crucial part of the competitive ecosystem in any game and align perfectly with our mission of making esports truly accessible, as it ensures that the best players can rise to the top and take their place on the world stage.

Philip Hubner, CBDO at Challengermode, said: "After successfully delivering the European and Oceanic qualifiers for the BLAST.tv Paris Major in CS:GO just a few weeks ago, we are honored and eager to take our partnership to a new level and provide our platform to an even larger audience of players. With qualifiers taking place across many regions and tournaments having nearly unlimited slots for teams looking to qualify, we believe this is a true testament to what our technology is capable of and we couldn't be more excited."
Leo Matlock, MD Development at BLAST, said: "Challengermode is an experienced and trusted platform partner, having helped deliver a number of BLAST events over the last couple of years. We are delighted to again team up with them to offer countless opportunities to teams across the BLAST R6 circuit as part of the qualifying process. The open qualifier path is such an important part of the esports ecosystem and we are excited to work with Challengermode to open the door to even more teams and players in the Rainbow Six Siege community in 2023.  Furthermore, we are excited to see how advancements in technology can further enhance the playing experience. To participate in the BLAST R6 Open Qualifiers, simply visit the official BLAST R6 Space on Challengermode to learn more and register for your regional qualifier. This is an opportunity not to be missed, and we encourage all players to get involved and be part of a truly global esports circuit.