By
Phil
- 22 September 2017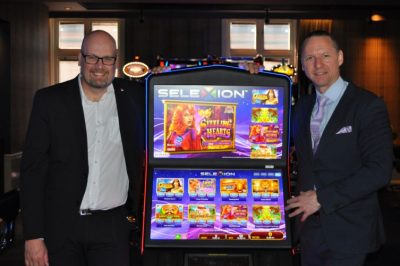 Sweden's state-owned gaming entity Casino Cosmopol has installed the Concerto Slant top slot machine into its venue in Sundsvall.
The deal was overseen by Konami's distributor in the region ICM Casino Management (ICM). Casino Cosmopol operates four casino properties in Sweden and the Sundsvall casino was first with the installation of Konami Gaming, Inc.'s Concerto™ Slant™ top with popular SeleXion™ multi-game configuration.
ICM is based in Stockholm, Sweden, and is part of Konami's exclusive network of distributors, partnering to address the needs of specific European markets and ensure strong, local customer support.
"We have been satisfied with the performance of the Podium SeleXion cabinet and now for the first time we have installed the Concerto Slant top and we are very pleased with the design, it blends in very well in our casino floor, and the performance of the Concerto SeleXion is very good. And last but not least, our guest loves it," said CM Henrik Lindgren
"Concerto Slant top with the latest KP3+ platform and SeleXion multi-game software has really done an impressive impact here at Casino Cosmopol Sundsvall. As Henrik very delicately pointed out the Concerto cabinets are a success story for all parties involved and I'm very humble that it has been well received here in Sweden" ICM chief executive officer Wolfram Dahlström said. "If the game resolution was great on the previous KP3 platform, with the KP3+, Konami has taken this to the next level, unprecedented in in the industry today."
caption: Henrik Lindgren (CM, Casino Cosmospol Sundsvall), and Wolfram Dahlström (CEO, ICM)