By
Phil
- 7 January 2019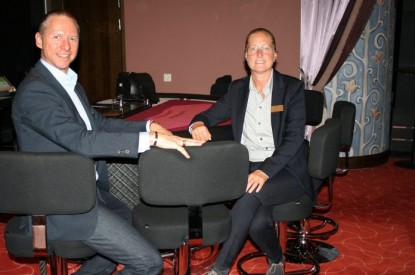 Casino Cosmopol in Stockholm has upgraded its casino floor with a VIP-section with the seating for the new area being provided by Swedish casino distributor company ICM Casino management AB (ICM) and manufactured by Italian chair manufacturer StylGame.
Casino Cosmopol was formed in 1999 as subsidiary company to Sweden's state-owned gambling entity Svenska Spel. Headquartered in Solna, Casino Cosmopol operates four casino locations in Sweden: Stockholm, Gothenburg, Malmö and Sundsvall. For more information about Casino Cosmopol, please visit www.casinocosmopol.se.
Founded in 2004, ICM Casino Management is headquartered in Stockholm, Sweden, and specialises in markets throughout Scandinavia and the Baltic states. ICM empowers its clients with centralized support for an array of high-end casino gaming products. Boasting strong regional expertise and industry experience, the company seeks to supply top-quality casino gaming products from world leading manufacturers with the best service possible.
For more information about ICM, please visit www.icasinomanagement.se.
StylGame since 2001 designs and manufactures everything necessary for the composition of ergonomically optimized gaming stations. Through its offices in Italy and North America and a vast distribution network, the company is active all over the world and collaborates globally with many of the major slot manufacturers to offer players maximum comfort.
For more information on StylGame, you are invited to visit www.StylGame.com.
Gaming Manager (Casino Cosmopol), Charlotte "Lotta" Bergdahl said: "We are very satisfied with the quality and we especially like the comfort that StylGame chair provides, it fits us and our customers' needs perfectly. Also Wolfram has worked very close to us to ensure that we got our needs and specifications accommodated."
CEO (ICM) Wolfram Dahlström said: "We are proud and humble that Casino Cosmopol Stockholm have chosen us as their preferred distributer of chairs for their VIP area. And I also want to thank Lotta with her colleagues at CC Stockholm, always to be courteous and pleasant. The StylGame products has yet again proven to be a great choice for the operator."
Luigi Iulita (StylGame CEO) added: "We are pleased to provide Casino Cosmopol Group with our products and we thank our exclusive Distributor ICM for doing an excellent job in its region. This is a new confirmation of the importance of our research and development work that allows us to offer exclusive and excellent quality products, improving the gaming experience and the enjoyment of the players."