By
William
- 25 November 2019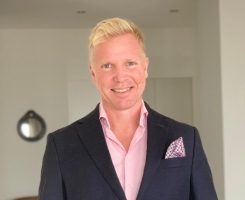 Yggdrasil, the online gaming solutions provider, has appointed experienced industry executive Björn Krantz to lead its new Publishing business. Krantz will join Yggdrasil in January 2020 as Head of Publishing.
The appointment has been made to ensure Yggdrasil remains well positioned in the iGaming landscape, with Publishing expected to become the key growth driver for Yggdrasil to rapidly expand its reach across global iGaming markets.
Björn Krantz commented on his appointment: "I have enjoyed many exciting years and moments within the iGaming industry, and since a few months back I have been able to reassess what could be the most thrilling and rewarding next step challenge. When Fred outlined his vision for the entire business, I felt straight away there was a perfect match.
"I am delighted to have been given the trust and confidence to lead the newly formed, and strategic publishing division, which is clear proof that Yggdrasil means business, and continues to invest in innovative and future proof value propositions globally. It will be an honour for me to work together with the Yggdrasil team, and to execute on the plan to realize the full potential of the Publishing growth strategy and objectives. It goes without saying that I cannot wait to get started early next year."
Future customers will be able to license any, or all elements, of Yggdrasil's gaming ecosystem from its current and future content portfolio, gamification and affiliation tools to its advanced platform technology and Game Development Kit. This will enable them to instantly create their own unique end-to-end iGaming offering supported and in partnership with the supplier.
Within the new Publishing business, Yggdrasil will sharpen its business focus, strengthen its technology leadership and leverage synergies from mutual business development projects to ensure the long-term success of the company.
Fredrik Elmqvist, CEO at Yggdrasil, explained the rationale behind the appointment: "Ever since Björn and I discussed the initial plans for the new business model and our future growth expectations I knew he was the right person to lead the Publishing division which will be central to our success. I'm delighted he will officially join us next year and kick off the new decade in style. We've spent months carefully planning this new strategy, basing it on the solid foundations we've built up over several years and crucially adding several highly innovative and never-before-seen layers that will see the business grow exponentially across the globe.
"With Yggdrasil Publishing we keep on pushing the industry boundaries by franchising our entire kingdom, enabling partners around the globe to rocket leap their B2B success. It is going to be a wild ride that we look forward to."