By
William
- 23 December 2021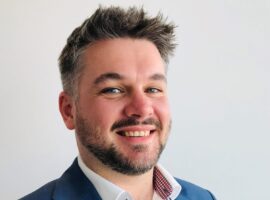 It's been nearly 12 months since Swintt expanded its portfolio with SwinttLive – a live dealer product with a clear emphasis on being 'mobile-first'.
G3 catches up with David Mann, Swintt's Chief Commercial Officer, to find out what this means in practice and the company's plans in the live space.
How has SwinttLive been received by operators and players?
SwinttLive has been incredibly well-received by operators and players. This is mostly due to the mobile-first approach we have taken, delivering an engaging and entertaining experience especially when played in portrait mode.
This is reflected in the activity we are seeing from players who are recognising the power and quality of the product experience we offer. We are also seeing a great engagement with those that appreciate the Las Vegas casino environment we have created – our games are streamed directly from Sin City.
What space does SwinttLive occupy in your portfolio?
SwinttLive is part of the wider Swintt portfolio which also includes our localised online slot and table games plus our gamification engine, SwinttGamify. Our live dealer product is performing incredibly well, and we are seeing it grow month on month in terms of wagers and activity.
As we enter additional regulated markets and go live with more operators, we are confident that SwinttLive will emerge as a key product for all of our partners and especially those that currently benefit from our suite of slots and table games.
How does SwinttLive sit alongside SwinttGamify as an overall product package?
We have yet to combine SwinttLive and SwinttGamifty but this is very much on our development roadmap and is something we are planning to roll-out next year. This will significantly enhance the player experience and deliver new and exciting twists within our live dealer games.
In turn, this will help our operator partners drive more value from SwinttLive games through increased session times and giving players a reason to return to our live dealer content.
What does mobile-first design mean in practice? Does this mean desktop players aren't catered for?
Our research and data showed that more than 80 per cent of live casino players now access games from mobile which is why it was an easy decision for us to take a mobile-first approach to developing SwinttLive. We also understood the importance of developing in portrait mode as this is the way consumers hold their devices especially when out and about.
Of course, we have also made sure that SwinttLive plays just as well on desktop and laptop as 20 per cent of players are still using these devices. By taking a mobile first approach, we can offer a superior desktop experience as mobile is a much harder channel to develop due to the reduced screen size available.
By nailing the gameplay and features on mobile first, the desktop experience will always be great as a result.
Could you tell us more about the games available in the SwinttLive suite?
Our portfolio currently includes Roulette, Baccarat and Tiger Bonus Baccarat. The flagship game in the SwinttLive suite is Tiger Bonus Baccarat – this is hugely popular in casinos worldwide from Vegas to Macau and offers operators who particularly want to target the Asian diaspora – such as Japan and the west coast of Canada – relevant and high-quality content that is proven with players.
We now plan to extend our live casino offering and the next games that will be launching soon include Blackjack Plus and a Roulette variant that includes Multipliers on key numbers for a more volatile and exciting experience.
Do the titles vary on their traditional game formats, or offer a simplified 'what you see is what you get' experience?
Our portfolio consists mostly of traditional games as the classics often make for the best live casino games, but we have also introduced some new and exciting variants. Regardless, we always strive to deliver the absolute best product and we achieve this by combining data with unrivalled market knowledge.
By doing this, we believe that players will quickly realise that SwinttLive titles offer a superior experience and as a result will play our games over others.
What's next for SwinttLive? Will the vertical be at the forefront of the company's content investment going forwards?
We are super excited about our next run of game releases and especially Blackjack Plus and our new Roulette variant. We are diverting a lot of resources to building out SwinttLive and will continue to work hard to take our live dealer product to the next level and to continue to deliver an entertaining and thrilling experience to players of our games. We have a lot planned for SwinttLive so stay tuned for further updates.
Finally, there is a clear emphasis on sustainability stamped throughout Swintt's offering. How does this work in practice?
Sustainability is a core principle of ours and is something we are constantly moving towards across all our products. We cannot reveal too much at this stage, but our upcoming engagement tool to enable global philanthropy through online gaming will be something that will be rolled out across the SwinttLive portfolio. So, watch this space!