By
Phil
- 6 February 2016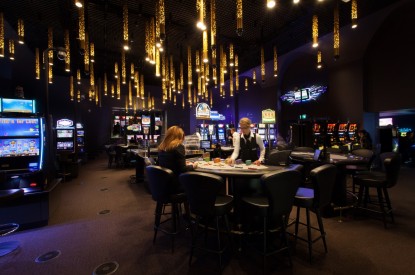 Switzerland's Casino Neuchâtel has installed drScreen from DRGT system, continuing a relationship that has been in place since the venue opened in December 2012.
Casino Neuchâtel works in partnership with Grand Casino Bern, the longest standing customer of DRGT (since 2008) in Switzerland. The systems choice was then clear.
Fabien Nanchen, IT and Technical Manager at Casino Neuchâtel, said: "Since the opening we had in our mind to have a customer card and after seeing different systems, we were impressed by the way DRGT flip the slot screen to show a 'customer page' or different advertisements when the slot is not played. And more, if you think of the future, and about all the customer's services or 'extra game' you could have directly on the EGM screen. All these factors convinced us that drScreen would be readily accepted by our customers."
Asked about the advantages of drScreen, Mr. Nanchen continued: "For us as an operator, one of the biggest advantages is the compatibility with the rest of the DRGT system, so we can offer our customers, a complete integrated experience. For our customers – well they really appreciate that they can flip the screen to see their account, to see all the running promotions, the last handpay, the hot'n cold EGM, etc. It's a service we can offer to our customers that the other casinos don't have".
Joost van Egeraat, DRGT Sales European Director, added: "drScreen is a major marketing boost to any casino floor. It is all about the customer interface and with drScreen operators can direct their marketing (such as advertising) directly onto the slot screen. The additional bonus is that the player can flip the screen to attain a great amount of information, such as their account details and information on how the slot has been doing – without having to interrupt their game play. This endorsement from Casino Neuchâtel shows how important a tool drScreen can be. The casino team here is very innovative and always looking for ways to improve the player experience, which goes to show as Casino Neuchâtel is the first casino in Switzerland to have introduced drScreen."