By
Phil
- 1 April 2015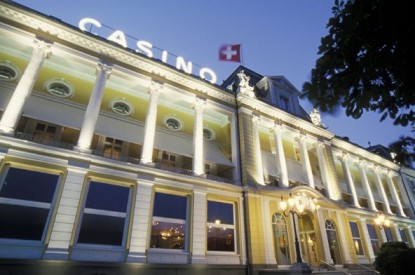 In a year when the Swiss casino market fell by another five per cent, Grand Casino Luzern managed to improve on 2013's profitability if not its revenue.
The spectacular casino, set on the shores of Lake Luzern, attracted slightly less visitors in 2014 compared to the previous year although the operator has managed to increase its profit through a series of efficiency improvements.
In a declining environment, the operator behind the casino; Kursaal Casino Luzern, saw its Gross Gaming Revenue fall from CHF 38.96m to 37.88m although it managed to boost its profit by CHF0.36m to 1.15m. Visitation fell by 700 people year-on-year with 216,000 visitors making their way through the casino doors in 2014. Operating income came in at CHF5.71m compared to CHF 6.41m in the previous year and EBITDA of CHF 1.38m compared to CHF 1.66m in the previous year.
A spokesperson said: "The early introduction of [efficiency] measures had a positive effect in the last fiscal year, and the profitability was increased in the weak market environment. The number of jobs declined by 4.1 per cent to 162 full-time positions. The Casineum, [the venue's nightclub] which celebrated its 10th anniversary last year was able to keep the number of visitors at a high level. Also again with 15 Gault Millau points awarded restaurant "Olivo" and the summer restaurant "Seecafe" can look back on a successful 2014. The Panorama Room and the Casineum Grand Casino Luzern offer a diverse and powerful infrastructure that has been used extensively in the reporting year for meetings, conventions and seminars. Equally popular was the stylish rooms for banquets and ceremonies in private."
Overall in 2014, the turnover of the 21 Swiss casinos declined five per cent. GGR reached CHF710m in 2014. Revenue has fallen by a total of 30 per cent since 2007.
Christophe Darbellay, President of the Swiss Casino Association, said: "Because of the extremely high regulatory environment, Swiss casinos market shares of over CHF 300m per year by the Swiss casinos to the competition, which is not equal to or less regulated. Customers migrate to gambling halls and casinos in neighbouring countries to uncontrolled accessible sites on the Internet, and illegal gambling clubs. This reduces the casino revenues and the tax. The cantons miss out on substantial revenue and the Swiss economy is losing skilled jobs. By taking away the local prevention concepts, self-suspensions and the protection of minors are being undermined. The new gaming laws must strengthen the competitiveness of the casinos significantly, otherwise the proportion of illegal and weakly controlled sites continues to grow. Legislators need to refocus on the original goals: the Swiss are supposed to play in safe and supervised Swiss casinos, and not foreign, uncontrolled providers."