By
Lewis
- 10 December 2020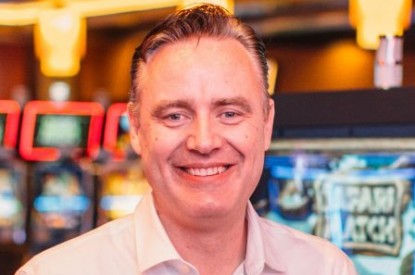 Georg Washington, CEO of Synergy Blue, talks G3 through the manufacturer's latest line-up of arcade style, skill-influenced games and explains the input of Nolan Bushnell on the company's 2600 cabinet series.
Announcing three new arcade and mobile-style game titles, as well as the developer's first traditional slot game, Synergy Blue is promising to bring unique and versatile styles of arcade gambling to casino slots.
"We have four new games available in multiple jurisdictions that are multilingual and designed to attract a new style of player," outlines Georg. "One of our mottos at Synergy Blue is to provide something for everyone so we have a range of game play styles, offering more interactive experiences for demographics seeking more engagement. We have tried to supplement traditional gambling and provide different experiences."
Blizzard Blast
Blizzard Blast is Synergy Blue's first progressive game featuring a persistence feature with over 200 unique levels. Players can sign in to save their progress and keep coming back to blast arctic characters for a chance at winning cash prizes.
"Blizzard Blast is going to be a really interesting game to watch. It's a great game and I think it has all the right fundamentals," comments Georg. "Blizzard Blast is our first standalone and bank progressive style of game. It has a few hundred levels and persistence, so if you get up to level 50 or 100 you can sign in and sign out and come back later to pick up where you left off. Blizzard Blast features multiple different bonus rounds so that the player can have a great gambling experience whilst having a lot of fun."
Georg believes Blizzard Blast caters to demographics of new and current players because it is a very simple, mechanical Toon Blast style of game. In short, the title meets Synergy's Blue's three main objectives:
i) Can I do it? Is it easy to play? Yes.
ii) Is it a different experience? Yes.
iii) Does it offer elements of a slot machine's mechanics to appeal towards the existing demographic of slot players? Yes.
"When you start pushing a new genre of games you learn what's acceptable and expected," adds Georg. "One of the things we have learned is to add slot mechanics into our games, such as free spins, to blend the game into the gambling world. For example, in the latest version of Lucky Candy Cash we added new types of bonus rounds because it felt a little flat. The game then became a lot more interesting for traditional slot players who prefer free spins at the end of rounds."
Georg anticipates more progressive titles in the future: "Players seeing the rewards and numbers tick is a big draw. We looked at how we provide bonuses and the appeal of larger prizes to help bring people in and play our games. Blizzard Blast will be followed soon by another progressive that follows the same concept."
Royal Dragon Saga
Royal Dragon Saga features royal dragons, free spins, wild symbols and lucky 8s in Synergy Blue's first ever traditional slot game. "We already have bar tops and multi game types of hardware but as we want to be able to offer something for everyone and that's where Royal Dragon Saga comes in," says Georg. "As a traditional slot game, it rounds out our multi game package."
Given Synergy Blue's reputation for reimagining the player experience and explicitly aim of targeting a new generation of player, it is interesting that Royal Dragon Saga is a traditional slot game. Does the game suggest a potential shift in developer focus?
"We want to provide something for everyone," responds Georg. "The rationale behind the game is for our multi-game packages or bar tops. Bar tops in the US are expected to have certain games. You need Video Poker, Keno and a slot to appeal to certain players. We felt it was important to add these to our catalogue of games as a piece of the overall puzzle.
"We look to offer a game for every type of player. I use my mother as an example. She is a traditional video pokie player but also loves playing candy swap games on her iPad. Now with Synergy Blue games, she can enjoy both and have a chance to win.
"Players may want to play Mahjong, a slot machine and then try Lucky Candy Cash. Not everyone is going to play the same game all the time. It's about catering to both new players and ones currently out there."
Zombie Heat
Zombie Heat is a tower defence game, where players fend off toxic space zombies with a personal trailer cannon named Barbara. Using traps to slow down the hoard of zombies and aiming the cannon to take them out, the game features 10 unique worlds to play in.
"Zombie Heat is a mobile style of game," summarises Synergy Blue's CEO. "It's a side view tower defence game where you set up different traps to slow the zombies coming at you, all in a cartoony style. You have different worlds ranked easy, medium and hard that you progress through as you play. It's got its own unique puzzles and power locks. Zombie Heat's style is about the fun of the game and the excitement of winning."
Joyride Jackpot
"Joyride Jackpot is my favourite game," enthuses Georg. "I get on there and I'm looking at getting the fastest time. It's a true arcade experience. It has that nostalgia and classic feel of an arcade game.
"Joyride Jackpot is our most advanced representation of fun you can bet on. It's a true hybrid gambling and gaming experience. If you think of Need for Speed or any of those traditional arcade games, it's like that. In fact, I think Joyride Jackpot is better than the games out of the traditional arcade. You get to select your type of race car from a selection of eight and whether to play single player or multiplayer with a group of friends. There are five different racetracks ranging from easy, medium and hard."
So far, the game is sounding more like a gaming than a gambling experience. Where, we ask Georg, does the gambling aspect come in?
"From a betting aspect it is pretty simple – you collect a coin (think Mario Kart) and every time you pick one up it's a wagering event. There's a bonus round at the end of the level depending on where you place. If you come in first, second or third place, the multiplier at the end will adjust to your position, potentially increasing the RTP. The game also has a leader board functionality so you can fight for who can get the best time with some hidden Easter eggs to boot.
"From a casino's perspective, the operator can choose their bet sets, RTP and volatility of the machine, but the game leans more towards an experience. If you put in a reasonable bet set people play and compete against each other longer. We are very excited about it for sure. It is more of that true arcade experience that we love. We have another game coming out shortly which is again more arcade-y."
Synergy Blue's CEO explains the lessons Joyride Jackpot has learnt from its racing predecessor, Lucky Karts. "We had a previous generation of game where the game designers went a bit crazy with the level designs. We wanted to make something that was easy to play echoing Nolan Bushell's saying of 'easy to learn, hard to master'. We looked at the physics engine and the level designs and believe we've come up with a game that will be a hit on the casino floor."
Any inter-office rivalry? "There is quite a bit of a rivalry within the office to get the fastest times and, of course, the QA team are the folks using the hidden Easter eggs to do that. They do things to speed up their times which I still haven't worked out how to do. I'm close, but I just don't know how they do it! It really is a fun game."
2600 series
In September, Synergy Blue unveiled its new 2600 cabinet series. Inspired by the original Atari 2600 console and designed in consultation with Nolan Bushnell, founder of Atari, the new cabinet line brings arcade-style gaming to casino floors.
The 2600 series offers sleek and smooth gameplay, along with multiple arcade-style controllers such as steering wheels, joysticks, buttons and more. The series provides casino floor operators with greater variety of machines and casino games which keeps players on casino floors longer and appeals to various and expanding casino demographics.
"The Atari 2600 introduced an entire generation to the fun and excitement of video games," notes Georg. "When we began working on cabinet ideas, we kept coming back to the nostalgia that gamers around the world have for the original 2600, but we wanted to update it with today's players in mind. The 2600 cabinet series combines 'fun you can bet on' with arcade-style design to provide a fresh look for casino floors and an entertaining experience for players, from joysticks to drivers.
"The 2600 series is available in XL (40" wide-set), Slant Top (28" width), or bar top versions, all inspired by the Atari 2600. Having experienced the cabinet first-hand, it is a lot more ergonomic and immersive than our previous series. All the games we have discussed work with the old cabinets as well, but the 2600 series has a completely different look and feel to it."
An avid gamer himself, Georg explains how he met the Father of the gaming industry, Nolan Bushnell: "Nolan is a character who we have worked with for quite some time and a great guy. We actually struck up a conversation at G2E three years ago and it just went from there."
Any future collaborations in the pipeline? "We've got a couple of other projects we're working on game-wise with Nolan that are very unique and work in both areas of the gaming industry."