By
Phil
- 14 October 2016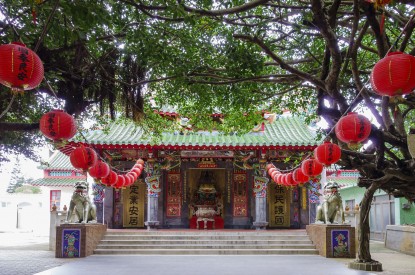 Locals in Penghu, the outlying islands north-west of Taiwan, will vote in a referendum this weekend to decide on whether casino resorts could be built on the island.
The vote comes seven years after a similar referendum rejected casinos with 56 per cent of Penghu residents voting no despite strong support from the county government.
This time round the proposal has seen little support from President Tsai Ing-wen and Premier Lin Chuan of the Democratic Progressive Party (DPP) both of who have said casinos are not the only way of developing tourism in Penghu. Not all members of the party are happy with that stance though.
DPP spokesman Wang Min-sheng said: "Tsai should not try to override public opinion. We believe that investment in a casino resort can help promote the tourism business in Penghu. If casino gaming is allowed here, we would like to see that things can be developed as in Singapore. And we will also suggest to authorities to ban Penghu locals from gambling."
Casino proponents fear a low turnout of way less than half of the population. Around 21,000 votes would. Around 17,000 Penghu residents clinched victory against the casinos in 2009.
DPP Legislator Chen Man-li has accused "yes" campaigners of making "empty promises" such as money and welfare benefits for Penghu residents.
"If young Penghu locals cannot return home to vote, then elderly residents must vote 'no' to casino legalisation for the sake of their homeland and the young generation's future," DPP Legislator Lin Ching-yi said.
Penghu covers an area a little under five times the size of Macau, and is located in the Taiwan Strait, with one large main island and a number of smaller islands. Given the ease of travel between Taiwan and Penghu, the popularity of Penghu with Japanese tourists, and the upgrades that have been made to the airport over the years, the target market would be primarily Taiwanese and Japanese players, with additional play possible from Chinese and other Asian players.
In July 2012, the residents of Matsu voted in favour of casino resorts to boost their economy but still the government of Taipei has yet to approve it. With the Penghu vote also needing the Taipei government's blessing, nothing will be set in stone by the referendum.
Indeed, the ability to attract Chinese gamblers to Taiwan to allow it to compete with Macau could just be a pipedream.
Grant Govertsen, an analyst at Union Gaming said: "Beijing has already indicated they will not make it easy for mainland residents to gamble in Taiwan. So the return on investment will be challenging. In order to attract the interest of major developers, the licence would need to be in a location like Taipei rather than an offshore island; under the assumption that the majority of customers will need to come from Taiwan if Beijing does not allow mainland residents to gamble there. No matter what happens on Penghu, the government is unlikely to move forward with a gaming bill. As such, even a yes vote in Penghu is unlikely to result in the near-term development of an integrated resort or IRs."
He said previously: "There is clearly an appetite for gambling in Taiwan and there would be significant interest in large-scale development if integrated resorts were approved for cities like Taipei or Kaohsiung. Even in a best case scenario where the new legislature finally creates integrated resort legislation, we think the first integrated resort is at least five years away."
Andrew Klebanow of Global Market Advisors (GMA) hasn't being put off though.
"Taiwan ranks with Japan as a potential lucrative casino gaming jurisdiction," he said. "The pending referendum in Penghu, and the possibility of a referendum in Kinmen, has renewed interest in Taiwan among foreign casino operators. GMA's thought-leadership and advisory support will hopefully serve the purpose of keeping interested investors apprised of developments in this emerging gaming venue."