By
Phil
- 2 November 2021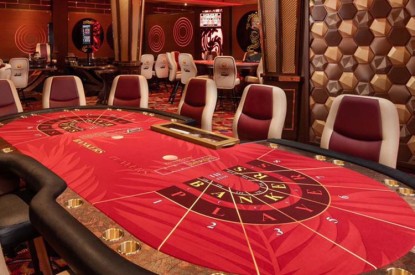 TCS John Huxley is proud to have been involved in the expansion project of Palm Beach Casino in Dar es Salaam, Tanzania, supplying a wide range of new and innovative gaming products for the casino.
The TCS John Huxley Africa team worked closely with the casino to produce a variety of products ensuring all the gaming equipment was produced and installed to the casino's exact requirements. This included a completely unique 14-player Punto Banco Table with a Mahogany finish and black armrests, which will make for an impressive addition to the casino and is a first of its kind for the region.
Certain to create excitement within the casino, TCS John Huxley installed a Blackjack Elite Progressive as well as five Tie Poker Progressives, both with custom contribution values, seed values and increments. The TCS John Huxley Jackpot System provides operators with the flexibility to configure multiple bespoke progressive jackpots and patented mystery prizes, that enhances any base game. The excitement and engagement this generates amongst players was clearly illustrated recently when the powerful progressive system provided a jackpot win of 97,000,000 Tanzanian Shillings at their sister casino Le Grande Casino in Tanzania.
TCS John Huxley created a range of new custom designed Loukas gaming tables, as well as a variety of layouts to compliment the overall look across the gaming floor. The Loukas range is a bespoke "rounded" Roulette Table, which was specifically designed for the casino and will provide more space for players.
Installed with the Roulette tables were seven Saturn Roulette Wheels and Chipper Champ 2 chip sorting machines. Saturn Roulette Wheels incorporate discreet in-built reading sensors discreetly embedded in the rim for the fast and accurate detection of winning numbers, as well as a near indestructible Velstone ball track to prevent wear and tear. Furthermore, Chipper Champ 2 improves table productivity and reliably sorts any chip, from wheel checks to value chips whilst identifying and isolating non-conforming chips and notifying the dealer accordingly. The Chipper Champ 2 boasts quick set-up and processing whilst being the fastest and quietest chipper available.
Completing the order was a wide range of gaming accessories including custom clear acrylic shoes, manual wooden mahogany shoes, plaques and a variety of chips.
Directors of Palm Beach Casino, Costa Giannakopoulos and Dan Zvonaru, commented: "It has been a pleasure to work with TCS John Huxley and we are looking forward to see the levels of excitement the progressive games will create. The team's professionalism and customer service has been outstanding and we are delighted with the finished result."