By
William
- 3 March 2022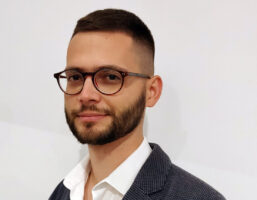 Every game developer has a tentpole game, a massive success that establishes the brand of the game cuts through the noise of game releases and has a lasting impact on the creator's standing in the industry amongst game creators.
For SYNOT Games, that game is Respin Joker. Filip Hlaváček, SYNOT Games' Online Chief Delivery Officer, shares the internal surprise at just how well Respin Joker performed across multiple markets and the future for the Joker series of games.
What was the background to the creation of Respin Joker?
The premise behind Respin Joker is simple yet highly addictive – an old classic on three reels adorned with Venetian elegance and a Respin feature. At the time of conceiving Respin Joker, we were still just building our portfolio. So as not to overcomplicate matters, we needed simple yet engaging games that would stand the test of time.
So when it came to designing the next slot, it had to be classic with a modern vibe. We were throwing ideas around and we fell in love with the Venice theme. It added a sense of polish and luxury to the well-known concept of fruity slots.
From then on, developing the game was easy. We knew how to make the fruits just right but the Joker, the Venetian mask, was a whole other thing. In the end, it all just clicked together and now novice and experienced players alike enjoy one of our very first games.
Why is Respin Joker SYNOT's tentpole game?
Respin Joker was one of our earliest games. When we began building our portfolio six years ago, we needed to be able to churn out new games as fast as possible. Once Respin Joker was released, we were surprised to see just how well it performed on every market it was on – an instant player hit and a commercial success. Very soon we realised this is our safe bet because it just works everywhere, regardless of market preferences.
It gave us confidence that what we do works, that we are good enough to offer new games to our partners, knowing they will deliver results. That is essentially what gave us the boost to expand into new markets.
Before the launch of Respin Joker, what were SYNOT Games' standout titles?
For a short while, Respin Joker was neck and neck with Fruit Awards, which to this day is still one of our best performing game. But for a long time, Alchemists' Gold was the jewel of our portfolio, the prettiest theme game, also owing its success to simplicity balanced with engaging elements.
"A classic with a modern twist – a fruity slot with a bit of Venetian elegance." How did Respin Joker's design elements marry up to bring this vision to fruition?
Whenever you see three melons or cherries, whoever you are, it triggers something inside you. Whether it is a nice memory, highlighting a sense of fun missing from today's cynical world, or just a reminder that gambling should be fun, fruit machines are designed to attract the punter in you.
We experimented and wanted to create an experience that was both timeless and contemporary, to breathe a new soul to classic slots, appeal to classic slot lovers as well as new generations of players, who enjoy the more intricate audio-visual presentation.
Our developers took inspiration from the Italian Venice which evokes luxury, nobility and thrill. The resulting game combines the best of both worlds – a classic slot with a modern twist.
How would you summarise Respin Joker's gameplay mechanic? Has it been a bolt of lightning in a bottle scenario – in which the right elements happened to come together in the right mix – or is it more formulaic than that?
I dare say that the gameplay mechanic is not that complex. It made it to the final product almost exactly as we drafted it in the preliminary stages in design concepts. Of course, it required mathematical fine-tuning, polishing the gameplay flow, synchronising animations and music, so that everything together plays up the feature and makes playing Respin Joker a thrilling experience. So, I can confidently say that this game was a success from start to finish.
From a gameplay perspective, what differentiates Respin Joker from other games released during that period?
Respin Joker is just like our other games released then. We made a few games with the Respin feature and multiplying full screens. But this one had the right mix, it was the correct blend. The "secret ingredient" is the math model. Visuals are key to grabbing the player's attention, but math is what keeps him or her going.
What is the international appeal of Respin Joker? Are there particular markets the game performs especially well in?
Respin Joker performs about the same across all markets. Sure, it might not showcase the audiovisual prowess of the SYNOT Games development team, it doesn't even feature complex mechanics; it is more of your feel-good movie type slot that players enjoy playing over and over again.
How much license have you taken in terms of iterating upon the Joker formula? Is there a limit to the changes that can be made to a game before the essence of the original game is lost?
We wanted to make a Respin Joker franchise by bringing the wonderful experience from the game with something extra, and that doesn't immediately mean a lot of change. The game mechanics remains much the same, so we kept the most essential elements.
However, a lot of effort went into maintaining the feel of the original three-reeler, tweaking the game just enough to bring a new perspective but keeping its soul intact. This type of extension caters to both players who do not necessarily enjoy three-reel games but also fans of the game, who can now experience it a little differently.
Specifically, what has Respin Joker 81 added to the brand?
Sequels can be extremely powerful in attracting players' attention, especially when the original was such a tremendous success. Just look at other segments of the entertainment industry.
Respin Joker 81 is a 4×3 video slot as opposed to the original 3×3, and has up to 81 ways to win, which is quite a leap from the five paylines in Respin Joker. Its value lies in attracting the doubtful section of the audience, who didn't think much of Respin Joker until they played Respin Joker 81.
What is the future for the Joker series of games?
Player behavioural trends are constantly changing. With that in mind, at SYNOT Games, we are always looking for new and innovative ways to bring excitement to the world of online gambling and broaden its reach even further in the future.
I think that this classic Joker theme will endure but we must innovate it with exciting new features which provide a better gaming experience for their players and that takes our brand in new directions.