By
Phil
- 25 February 2015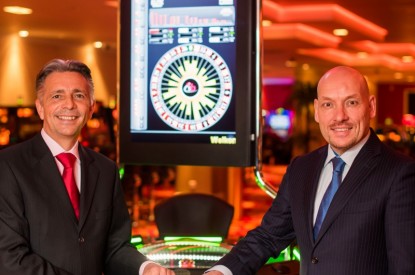 Interblock has introduced its new automated roulette machines, Ministar Roulette, into The Netherlands.
The Ministar Roulette has now been commercially launched for consumers and installed at three Jack's Casino locations. All three versions (5 Play Stations, 8 Play Stations and 10 Play Stations) have been installed in a full option set up.
Patrick Magendans, Director of sales for Europe at Interblock, said: "We are extremely happy with the actual first installations in the Dutch Market. The Ministar Roulette brings the best of breed and newest ETG technology to The Netherlands and enables casino and arcade operators to be ready for the next era. Players get also a modern and easy to use roulette, whereas at the same time they enjoy the well-known and trusted Interblock experience."
Jack's Casino, part of the JVH gaming & entertainment group, is the first operator to have introduced Interblock MiniStar Roulette machines.
Michiel Nubé, Operations Director at JVH Gaming, added: "We are thrilled about these new roulettes and have a high degree of trust in the technology and player acceptance. We have worked with Interblock for many many years, and it was and will continue to be the number one roulette for our market."
The first orders for this new MiniStar Roulette have meanwhile been signed by Elam, Interblock distributor for The Netherlands, and many more are expected to follow shortly.