By
Phil
- 29 September 2022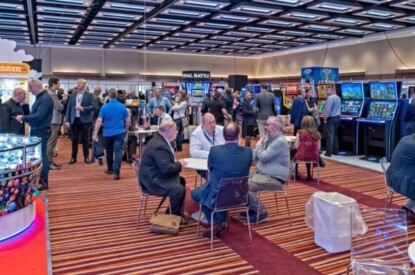 ACOS 2022 will take place on October19 to 20 at the ILEC Conference Centre in London's Earls Court. West London, with all its amenities has been the home of many shows and a firm favourite with Amusements and Coin-Op professionals for more than 70 years.
The ILEC Conference Centre is one of London's most modern exhibition venues. Having loading bays and the exhibition floor at the same level is real bonus for exhibitors who don't have to endure lift queues prior to and after the show. The ACOS exhibition floor has been well planned with good line of sight and plenty of relaxed seating and refreshment areas for continuing those on-stand conversations. There's even an on-site pub, The George & Dragon, perfect for a short rest and available exclusively to showgoers for the ACOS First Evening Networking Reception.
Roland Connor of show organiser Swan Events said: "We may be in the Digital Age but there is still no substitute for face-to-face communication. In the pursuit of business, we are prepared to travel for meetings and events that we consider particularly important and often derive great enjoyment from doing so. This is particularly the case for Amusements and Leisure professionals, who not only need to be informed about new products and innovations, but also prefer to experience them first-hand, in the way that that their own guests will."
"The events of the last three years have proven the value of global digital meeting platforms and yet we still delight in meeting up with business friends in a relaxed environment, sharing a drink or meal, and discussing recent trading conditions and prospects."
In many ways, trade shows meet the above objectives, but for participants, a poorly conceived show can be an ordeal and an expensive one at that. ACOS Organiser Karen Cooke explained: "Trade shows are not always in convenient locations and access for exhibitors and their equipment can be a real problem, especially at the very large events. From the Visitor perspective, we've all heard horror stories from footsore visitors about over-priced accommodation and poor transport connections.
"When leading companies from the UK's amusements and coin-op industries first approached us, they were looking for a compact show that was tailored to their own requirements, with accessibility, comfort, and convenience at the top of the list. As a result, The Autumn Coin-Op Show (ACOS) was launched in 2014 and since then, we've worked hard to stay true to the original brief."
Earls Court is well-served by public transport and boasts an immense variety of hotels and restaurants. In fact, most regular visitors and exhibitors will have already established their firm favourites.
Mindful of escalating London hotel costs and the need to be close by, Organisers have secured excellent rates via the show's accommodation partner, Event Express. Mrs Cooke added: "Event Express is a specialist in exhibition accommodation and its staff really understands the needs of exhibitors and visitors alike. The rates are good, and the terms and conditions even better."
"ACOS attendees may book via Event Express, secure in the knowledge that there will be no upfront fees and that cancellations may be made until close to the show, without any penalty. We know that participants may be unsure about their exact requirements until the last minute, so we would urge them to book now via the ACOS website and cancel later, if necessary," she advised.
Regular ACOS attendees always comment on the show's informality and the ease of doing business. Because the show is so targeted, no time is wasted and it's possible to have meaningful conversations and spend time looking at the new products revealed at the show. ACOS reaches the entire UK Amusements and Coin-Op communities: Manufacturers, Distributors, Operators, Site Owners, Purchasing Professionals and Key Influencers. Vertical markets include Pubs, Clubs, Bingo, Leisure Parks, FECs, Adult Gaming Centres and more.
Mr Connor added: "If there are people in the UK industry that you need to see, they will be ACOS, at the same time and in the same place; it's a remarkably efficient and convenient way of doing business."