By
William
- 9 September 2022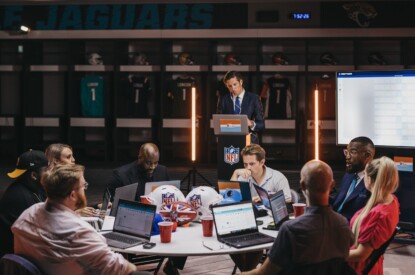 888sport, the official betting partner of the NFL in the UK and Ireland, has launched an NFL Fantasy Show ahead of the new American Football season.
The unique season-long collaboration sees 888sport, the presenting partner of NFL Fantasy, produce the weekly show where 10 celebrities, led by TV presenter and NFL fan Vernon Kay, go head-to-head in a Draft Fantasy League.
Each week, a new pair of famous faces, including Sky Sports' Neil Reynolds and former NFL player Christian Scotland-Williamson, will take on each other in a bid to progress in the league, while, alongside pre-eminent US-based Fantasy expert Adam Rank, they'll also review the best of the action from the previous week's matches before previewing the upcoming weekend as well as discussing their fantasy picks.
Other celebrities signed up for the show include Reynolds' Sky Sports colleague Emma Paton and talkSPORT's Will Gavin.
Kay, speaking at a glittering launch night of the show at the Tottenham Hotspur Stadium, said: "There's no point competing if you don't want the top prize. There's a famous quote, 'second is like losing'. Why do they give medals out in the Olympics for coming second or third? You didn't win!
"You've got Neil Reynolds from Sky and Will Gavin from talkSPORT. Two gents who drink from the pool of NFL every morning when they wake up, so they are the two guys to watch and who I'm desperate to beat."
On his draft tactics, Kay added: "Don't fill your bench full of quarterbacks. Never draft a quarterback high, you want running backs and two wide receiver slots filled first and tight end is also a bonus.
"You can have any kicker, they'll guarantee points. And in defence go all in. Defences win titles and the best NFL defence at the moment is without doubt the Miami Dolphins."