By
Phil
- 21 November 2016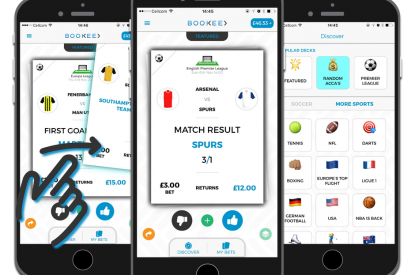 Bookee, a mobile-first sports betting company, has launched a unique swipe-to-bet app.
Designed to make betting personal and social for the casual bettor, offering users a true 21st century gaming experience, with its unparalleled user experience that allows users to place bets with a simple swipe of a finger.
The basic app interface offers players a randomised 'deck' of suggested small-stake personally-selected bets on a range of sports and events, giving them the opportunity to swipe either left to discard or right to accept the bet.
Users are presented with a range of betting categories to choose from. Options include bets on a specific sport – from football and tennis to darts and boxing – as well as bets tailored for specific leagues and matches. Other categories include "Strike it lucky" which features only long-odds bets, "Game of two halves" for those looking for half time / full time results and an "Accas" tab for multiple bets in one.
The concept is the brainchild of co-founders Adam Wilson and Adam Kalmanson, who have a wealth of industry experience within leading gambling firms such as William Hill and 888.com.
The pair believe current betting practices to be old-fashioned, with users still having to trawl through pages and search for specific bets. Instead, The Bookee revolution brings together gamification and betting by providing the facility to discover new bets, with the player always guessing what type of bet will be suggested next.
The suggested bets are provided by third party odds provider FSB, who provide turnkey betting solutions to multiple online gambling brands.
Adam Kalmanson, Bookee Co-founder and Head of Sales and Marketing said: "Bookee is about simplicity. We invented this app because we became frustrated with how stuck in the past parts of the betting industry are. Where other betting sites have adapted a 100 year-old infrastructure to retro-fit the smartphone revolution, the Bookee app is specifically designed for mobile use only. The popularity of apps like Tinder and Uber have shown that we are in an era of gamification, binary actions, and instant gratification. We are the first people to provide this type of service in the betting world and our strapline is "Swipe. Bet. Done" because it really is that simple"
The app comes with a range of user-focussed features, including Swipe functionality which sees users swipe left to reject a bet and swipe right to accept it. Once a bet is accepted, users have the opportunity to alter the initial stake by using the 'Stake Slider'. The app provides a clear indication of each pay-out for each stake level.
Users can find out what categories are on offer and then be presented with an array of bets within that grouping. Options change daily according to upcoming events.
A specific deck is available containing combinations of 'Curated Random Accas', where users choose from a range of suggested accumulators. Alternatively, bettors can use the 'Build Your Own Acca' facility by tapping the green plus button to add individual suggested bets to one larger accumulator.
Rif the user has rejected a bet by mistake, Bookee allows them to tap the back button to bring back the most recently rejected option to give the bet further consideration.
The app will feature functionality that over time will learn a player's preferences and will begin to provide more appropriate bets to the use. The app is also set to introduce a 'Splitbet' feature, allowing players to split the stake with a friend.