By
Lewis
- 20 November 2020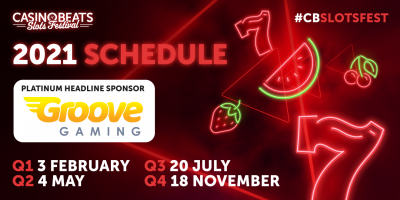 The CasinoBeats Slots Festival is to return with four editions in 2021. The announcement follows the inaugural Slots Festival that has been extended by a day in order to give online casino operators and affiliates additional time to try out the selection of new games – including 13 as-yet-unreleased titles – on show.
CasinoBeats has now confirmed quarterly editions of Slots Festival for next year, which will provide games studios and content suppliers with a platform to present their offerings directly to the industry throughout 2021.
CasinoBeats Slots Festival 2021 dates are 3 February, 4 May, 20 July, and 18 November.
Stewart Darkin, Managing Director of CasinoBeats, said: "The simple idea behind Slots Festival is to provide operators' casino teams with a dedicated online environment in which they can stay up to date with the latest games by actually playing them. It has proved to be a hit with both operators and suppliers, and I'm delighted to be able to announce four more editions for 2021.
"The calendar we've laid out gives games developers and content suppliers a degree of certainty for their 2021 promotional plans, as they now know that there will be a series of engaging showcases in which they can present their new titles to the right audience."