By
Phil
- 6 October 2015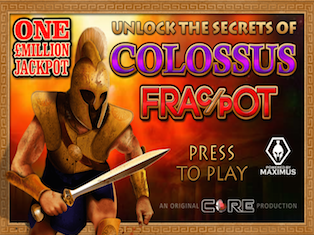 Colossus Bets has launched Fracpo', a landmark disruptive slot for the gaming industry, alongside partners Core Gaming and Sky Vegas.
With its £1,000,000 jackpot prize the Colossus Fracpot game is the first slot to incorporate a cash-out feature.
Traditional slots are designed to be an 'all or nothing' experience for the player to land the jackpot prize. In contrast, the Colossus game will enable players to cash-out their position between reels being resolved, including the option to cash-out in parts and thus continuing to play for a part of the jackpot prize.
Bernard Marantelli, founder and CEO of Colossus Bets said: "Partial cash-out has become a sports betting juggernaut, with industry leaders such as Bet365 and Paddy Power this year following the lead set by Colossus Bets when launching our sports pools with the feature in 2013. We believe that the application of partial cash-out to other gaming verticals will have a similarly transformational impact. The Colossus slot is the first in what will be a series of gaming products enabling players to bank profits as they progress through a game."
Justin Chamberlain, CEO of CORE Gaming commented: "Slots have lacked real innovation for some time and become a battle of the brands. This Colossus 'Fracpot' slot represents real innovation and as a result the interest from operators has been huge. We are delighted that in Sky Vegas we have a top tier operator who is first to go live with the game and we are looking to develop a suite of partial cash-out games with Colossus Bets."
Daniele Phillips, Head of Casino Marketing at Sky Betting & Gaming said: "We are really looking forward to launching a slot that could appeal to our large base of sportsbook customers actively using cash-out at Sky Bet. It gives us great cross-sell potential."
Related Stories