By
Phil
- 1 December 2014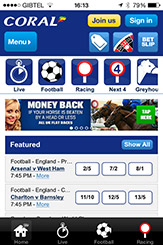 According to reports, Black Friday has broken all previous trading records for Coral who witnessed a 140 per cent increase on app downloads compared to other Fridays this year.
Black Friday is a tradition, which is supposed to kick-start Christmas shopping but according to the latest figures from leading bookmaker Coral, it's also sparked a surge in gaming and sport app downloads, suggesting shoppers aren't waiting until Christmas to open their bargain buys.
Coral's sports app was ranked first in its category.
Simon Clare of Coral said: "We usually see spikes in downloads on Christmas and Boxing Day as people unwrap their new phones and tablets and start to search for their favourite apps. We saw a huge surge in downloads yesterday suggesting that for many Christmas has come early this year."