By
Phil
- 2 March 2017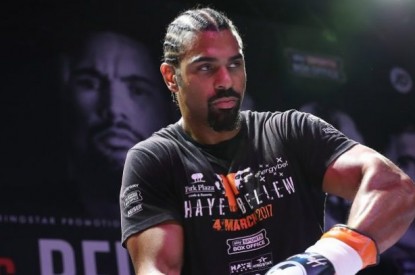 EnergyBet is proud to announce an official partnership with former world cruiserweight and world heavyweight boxing champion David 'The Hayemaker' Haye.
Haye and his team will be wearing EnergyBet branded apparel in the lead up to, and during, the heavily anticipated fight against Tony Bellew on March 4 at London's O2 Arena.
On Saturday David Haye will enter the ring with Tony Bellew, as they go head-to-head in the heavyweight division, in one of the most eagerly anticipated fights in recent years. Both men are looking in incredible form, but Haye has a formidable reputation and has made it very clear that he will be looking to finally settle his differences with Bellew in the ring.
The partnership is going to provide EnergyBet with powerful exclusive content to share with their customers, and a few of them will even be joining the EnergyBet team at the O2 Arena on Saturday, to lend their support to Haye in person.
The agreement is a result of a collaboration between Hayemaker and Entourage Sports & Entertainment.
EnergyBet CEO Marcin Sapinski, said: "We're thrilled to be working with David on this mega fight in London. Having secured exclusive content as part of this agreement, we plan to use this association to grow our brand awareness in the UK. Everyone is looking forward to this fight, especially the team at Energybet, and we're rooting for David to come out victorious."
David Haye commenting on the new partnership: "From the moment I step into the arena on fight night, hear the ring walk music kick in, look around and feel the Energy of the capacity crowd I know exactly how the night will unfold. Nothing can compare to that feeling and it is what fuels those KO Hayemakers. I'm delighted to have agreed a partnership with EnergyBet which will give their followers behind the scenes exclusive content."
Hayemaker Boxing Head of Commercial Nicole Macdermott and Entourage Sports & Entertainment CEO, Paul Brighten added: "We are delighted to have worked in partnership to bring together the world's most explosive boxer, David 'The Hayemaker' Haye and the most dynamic new betting company in the UK market in Energybet. We look forward to continuing our working relationship during an incredibly exciting time for Heavyweight boxing along with delivering a mutually beneficial partnership for the duration of the agreement."
The fight will begin at approximately 10pm on Saturday March 4, and will be broadcast live on Sky Sports Box Office. Exclusive David Haye-EnergyBet content will be appearing shortly.