By
Phil
- 16 August 2020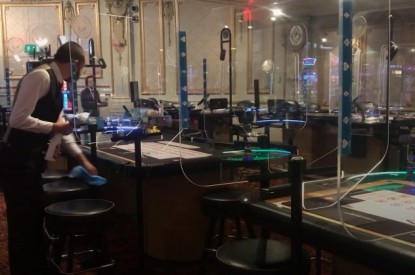 English casinos finally got the green light to reopen on Saturday August 15, although venues in 'specific areas where local restrictions are in place', including some sections of Greater Manchester, Lancashire and West Yorkshire have not been allowed to reopen to the public yet.
Casinos in England have been closed since March 20 and were due to reopen on August 1 before a government U-turn. Only three players are allowed at a live table game at any time to allow safe distancing with glass screens placed between slots machines and e-Tables with reduced capacity, one way systems and hand sanitising stations throughout.
Grosvenor has been able to reopen 35 of its gaming floors across the country but they have had to remain shut in Manchester, Huddersfield, Sunderland and Leicester.
A spokesperson said: "We are now open in 35 of our casinos across England. We want to say a huge thank you to each and every one of you for your patience – we've spent that time making Grosvenor Casinos a safe place for you to game, eat and drink."
A spokesperson at Genting Casinos UK said: "Our main priority is to keep you and our staff safe, so you can comfortably enjoy Genting Casino again. We've been busy behind the scenes putting a lot of changes into place to ensure your safety." S
The Hippodrome has reopened in Leicester square with a new £3m, 3,000 sq.ft multi-level terrace bar, The Rooftop, allowing two floors of gaming, two bars and open-air seating.
The Hippodrome's six floors of indoor gaming have also been reconfigured to ensure one metre plus social distancing throughout, a one-way system, Perspex screening, round-the-clock cleaning and sanitisation stations have also been installed across the venue, with face masks available to all staff and customers.
Simon Thomas, CEO and Chairman of Hippodrome Casino, said: "It has been an unprecedented few months and while closing the Hippodrome was the last thing we wanted, we were determined to use this time to grow and develop our offering. Alongside redeveloping our terrace space, we have worked tirelessly to introduce extensive hygiene measures ahead of reopening to ensure the wellbeing of our patrons and staff. We are incredibly excited to welcome our customers back and The Rooftop is an integral part of this new chapter."
"When you visit you will see the Hippodrome is the same but different. We have rearranged the gaming areas to create more space and installed screens and other hygiene measures to ensure the safety of our customers and our staff, but the same exciting experience awaits you. And the bars and Steak House are all open and ready
It's been nearly five months since we saw you, and look forward to giving you a warm Hippodrome welcome."
For most the reopenings have come too late. Michael Dugher, Chief Executive of the BGC said: "This belated good news will come as a welcome relief to the 12,000 people employed in the casino sector in England. We regret that it has taken so long for staff to return to work – long after all manner of venues and activities, that don't have anything like the anti-covid measures you will see in any casino, were reopened.
"Given casinos had been cleared by Public Health England as safe to reopen and given we had the strong support of DCMS, who have been steadfast throughout, it was lamentable that our safe businesses had to suffer considerable hurt and expense with a further pointless two week delay.
"Casinos are not yet out of the woods though. The last five months has left many casinos on the brink and the next few mon
hs will be particularly crucial to their recovery as the tourism, leisure and hospitality sector slowly gets back on its feet. This sector can play an important part in our national economic recovery and I hope ministers will continue to work closely with the industry to provide support through this difficult period. In return, casinos will continue to play their part in helping to revive our city centres and night-time economy, as well as supporting the country through the £1 billion economic contribution it makes in direct and indirect Gross Value Added."
Casinos in Scotland and Wales remain shuttered, although the Scottish Government has indicated that they can open on August 24.
Mr. Dugher added: "We hope that the Scottish Government will be true to its stated commitment about helping businesses, and allow casinos in Scotland to reopen as scheduled on 24th August. Casinos have invested heavily in new Covid safeguards. There can be no justification for further delaying their opening. We continue to urge the Welsh Government to fully engage with the sector and seek the reassurances we can provide to bring about the safe reopening of casinos in Wales."
Caption: Cleaning at Grosvenor's Rialto casino in London