By
Phil
- 12 December 2012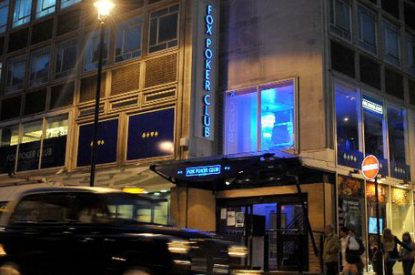 Having been bought just over a year ago by Genting, the Fox Poker Club in London has now closed, much to the disappointment of poker players in the English capital.
The venue will be reopened in the Spring of 2013 and although Genting hasn't confirmed how it will renovate the venue, it is believed that it will develop the venue, located on the busy street of Shaftesbury Avenue in central London, into a fully-fledged casino. It already has the licence.
Genting's simple message read: "It is with regret that Genting UK announces that the Fox Poker Club will be cease operation. The management and staff of Fox Poker Club would like to thank all of its customers for supporting the venture over the past two years. Further information will be released shortly. Although the Fox has closed the venue will be refurbished and re-born in spring 2013 as a new venue. We understand the frustrations of those who may have paid to join the club recently and are working on a way to make good."
The poker club was set up by Chris North and Ian Hogg, and was awarded a full UK casino licence in 2008 before opening its doors in September 2010. It employed 80 members of staff and had a member's database of 20,000.
Genting said at the time of the purchase that there would be 'no changes to the operation of the club in the immediate future.'
The club's fans left messages of concern and thanks on Fox Poker Club's facebook page.
One said: "Unbelievably gutted, just started playing fairly regularly on a Friday night. Have to find elsewhere to keep myself entertained until the wee hours of Saturday morning. Good luck to all the dealers and otherwise involved."
The Fox Club replied to several messages of support by saying: "Thanks to everyone for the messages of support. We wouldn't want it to seem like we have left you high and dry and so are making arrangements for all deposits, tournament tokens and cash chips to be redeemable at Cromwell Mint Poker. Thanks for your understanding and patience while we do this."
However one disgruntled poker fan slammed the decision to turn the club into a casino saying it would simply have 'one poker table in the corner of an already cramped venue.'