By
Phil
- 24 April 2017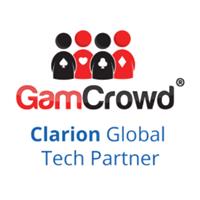 GamCrowd has agreed a new strategic partnership has been agreed with Clarion Gaming, while also unveiling the exciting launch of GamCrowd Tech Week.
GamCrowd Tech Week, which will be held during London Tech Week on June 12 to 16 at the Hippodrome Casino, Leicester Square, builds on the success of the inaugural conference in 2016.
The aim of the week is to build the profile of the ever-expanding gamtech sector and, at the same time, create an interface between the gambling industry's thought leaders and other tech sectors, so the industry can help prepare for the fourth industrial revolution.
The action-packed week builds on last year's conference, where the GamCrowd team have expanded the event to bring in experts from all tech sectors, including gambling, to share their knowledge and experience.
Over 300 technical and gaming industry leaders will be in attendance and in addition to the central conference day there will be an AI meet-up, Digital Transformation chat, Blockchain briefing and gamtech city tour amongst the agenda.
Some of the industry's best and brightest talents will be at the forefront of Tech Week, with expert speakers being welcomed from all different parts of the gaming sector, as GamCrowd showcases breakthrough technologies that are transforming gambling.
The agreement with Clarion marks the continued growth of GamCrowd, as they will now feature weekly on Totally Gaming and monthly in iGaming Business magazine to provide a leading voice and opinion on technology in the gaming sector.
Their relationship began back in 2014 after GamCrowd became a supporting partner for Clarion's Start-Up LaunchPad and Start-Up Village at EiG and GiGSE and organised the successful Pitch ICE event.
Chris North, Managing Director and co-founder of GamCrowd, said: "It's truly an exciting time for GamCrowd, as we announce our new partnership with Clarion Gaming, the industry's leading event organisers, and the launch of GamCrowd Tech Week. We've quickly positioned ourselves at the forefront of the gambling tech sector and Tech Week just goes to show how fast we're expanding as a brand and we can't wait to see what the rest of 2017 holds for GamCrowd."
Kate Chambers, Managing Director of Clarion Gaming Division, said: "It's been a real pleasure to work alongside GamCrowd for the past three years, so to expand our relationship is the next natural step for both brands. We welcome any opportunity to be involved in initiatives which showcase the gambling tech sector and which introduce new tech to the industry, so for Clarion, it was a no-brainer."