By
Phil
- 25 February 2015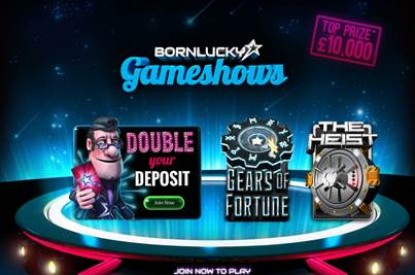 Online games developer Gamevy has taken the largest share of the public vote to win the inaugural Pitch ICE competition, produced by GamCrowd and Clarion Events.
The employee-owned company was judged to be the start-up with the most potential after it received 32 per cent per cent of the 741 votes cast.
Runner-up Bet Trade, the online casino where players compete against each other rather than the house, polled 26 per cent, ahead of innovative content provider Web Tech Games, with 22 per cent.
Gamevy was represented at ICE Totally Gaming 2015 by co-founders Paul Dolman-Darrall and Helen Walton, who pitched the company's Bornlucky Gameshows mobile and tablet app, which allows players to be the star of their very own gameshow.
"The number and strength of Pitch ICE entries shows just what an achievement it is to win the competition," said Gamevy chairman Dolman-Darrall. "We received fantastic exposure just from taking part – being announced winner will take this to another level and it endorses the faith we have in the product."
Gamevy gains entry to the GamCrowd Incubator service as winner of Pitch ICE. The program is designed to help start-ups secure investment, fill skills and expertise gaps, and provide valuable introductions to operators in the industry for testing and distribution.
GamCrowd CEO Chris North said: "Gamevy is a model start-up and the deserving winner of Pitch ICE. They have created a great product and developed it, showing that they understand how the industry works. We look forward to working closely alongside Paul, Helen and their team to help take their business forward, with the aim of attracting funding and achieving real success."