By
Phil
- 4 June 2014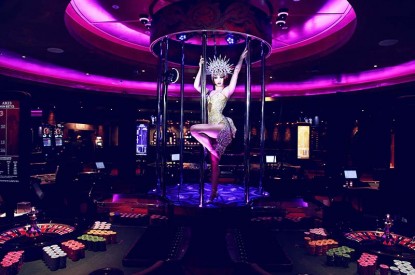 The owners of the Hippodrome Casino have opened a new Vegas-style gaming and entertainment venture underneath its existing Leicester Square property to accommodate a massive rise in demand for casino gaming in the West End.
Lola's Underground Casino will also be the first casino to offer entertainment and gambling side by side on a UK casino floor, a concept never before adopted by a casino venue in this country. The new casino, built with an additional six figure investment in the property, will be sited on the Hippodrome's lower ground floor, 20ft below the main auditorium of the former theatre, a renowned London entertainment icon and previously home to the world famous Talk Of The Town supper club.
Lola's is the brainchild of Simon Thomas, owner of the Hippodrome Casino, which since opening in July 2012 after a £40m personal investment has become the busiest casino in the country with more than 32,000 visitors a week.
Mr. Thomas said: "Since we opened there has been an incremental rise in the number of visitors to London casinos which matches, almost exactly, our own door figures. This means the Hippodrome has grown the market for casino gaming in London by 32,000 a week almost single handedly, demonstrating just what a potential demand there is for the new style of UK casino we offer here in London. To accommodate future growth we wanted to be well prepared and open a casino that echoes what Vegas does brilliantly, putting the entertainment on the same floor as the gambling, much closer to the tables. Hitherto this this would have been impossible for any UK casino, but we're bringing to life the vision and spirit of the 2005 Gaming Act which now allows venues like ours to offer a much more rounded entertainment experience."
Lola's Underground Casino will have dancing girls on podiums sited among the traditional blackjack and roulette tables, and the room will include a 'gin palace' and bar together with a barber shop for customers.
Mr.Thomas added: "As we proved when we launched the Hippodrome, gaming can sit alongside world class entertainment and first rate food and drink in an awe-inspiring environment."
Lola's Underground Casino inhabits the backstage area of the Hippodrome, which on opening in 1900 was a warren of corridors, animal cages, props rooms and the steel walls of a 100,000 gallon water tank, which all provide the background theme for the new venue.
The name comes from Lola McGuire, a former chorus girl famous in her day for organising illicit card games and drinking parties.
Mr. Thomas added: "Our research uncovered Lola McGuire, a beguiling performer and Edwardian entrepreneur, who we thought would lend just the right amount of seductive raciness to a space at the Hippodrome where she herself spent much of her time organising gambling, money lending through her own makeshift bank and operating the cellar bar using gin salvaged from the barges making their regular trips up the Thames from bankside distilleries. "