By
Phil
- 13 September 2022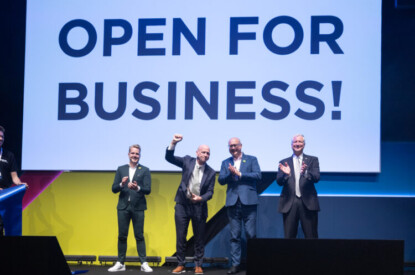 The trade show doors officially opened at IAAPA Expo Europe this morning after an opening ceremony that makes way for a week of educational sessions, in-person networking, and an exhibit space dedicated to highlighting the next big things from the global attractions industry.
Applauding the robust recovery efforts made by attraction leaders and industry professionals around the world, Peter van der Schans, vice president and executive director of IAAPA Europe, Middle East, and Africa (EMEA), said he hoped participants would make the most of their time with the trade show open.
"IAAPA Expo Europe or The Expo showcases the latest innovations, theming elements, sustainability efforts, and much more in beautiful London," said van der Schans from the IAAPA Theatre stage in ExCeL London. "Today's opening ceremony is sure to set the tone for what will be a week of networking, learning, and unforgettable moments."
To honour Queen Elizabeth II's decades of service to country and people, and to pay respects to the Royal Family, the ceremony included a moment of silence for attendees in the IAAPA Theatre.
The trade show opened with more registered attendees and exhibitors than last year's Expo event in Barcelona. As of this morning, there were 10,202 registered participants, including 6,407 qualified buyers representing 3,775 buying companies. There were 530 exhibiting companies represented on the expansive trade show floor that covered more than 15,800 square meters of exhibit space, an increase of more than 22% over last year's show.
IAAPA Expo Europe is a one-stop shop for industry experts across a range of businesses, from amusement and theme parks, zoos and aquariums, family entertainment centres, water parks, historic and cultural tourist attractions, museums and science centres to shopping malls, cruise lines, resorts, and retailers.
The event is produced by IAAPA, the global association for the attractions industry and takes place through Sept. 15 at ExCeL London.
Today's opening ceremony included appearances by Duncan Phillips, Founder and Managing Director of 360 Play, Chairman of BALPPA; Amanda J. Thompson OBE, CEO of Blackpool Pleasure Beach; Nick Blofeld, Divisional Director Warwick Castle, Merlin Entertainments; and Ken Whiting, ICAE, 2022 IAAPA Chairman of the Board, President, Whiting's Foods at Santa Cruz Beach Boardwalk. Offering a glimpse into local attractions, Thompson and Phillips shared a state of industry for attractions located in the United Kingdom.
Whiting shared highlights of his involvement in regional and international committees that guide IAAPA's mission.
In his welcome remarks, IAAPA president and chief operating officer Hal McEvoy announced IAAPA's renewed focus on coordinating the alignment of ride safety standards on a global level.
"Safety remains our number one priority and IAAPA is overseeing efforts focused on aligning the EN and ASTM safety standards further with our members' support and input."
McEvoy continued and confirmed the creation of nine working groups dedicated to reviewing and adjusting EN and ASTM safety standards to ensure a more cohesive, global approach to ride safety and operations.
Today's opening ceremony was live streamed on the association's new state-of-the-art digital application Connect+. Virtual attendees from around the world are able to participate in IAAPA Expo Europe through the all-new offering.