By
Lewis
- 11 August 2021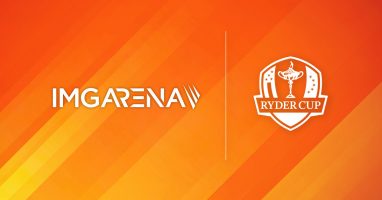 IMG ARENA has acquired the data distribution rights to the Ryder Cup.
The biennial match play event will be part of IMG ARENA's Golf Event Centre, which includes European Tour events as well as the PGA Championship. The Ryder Cup features the United States versus Europe and will next take place at Whistling Straits, in Kohler, Wisconsin, from September 21-26, 2021.
IMG ARENA will package and present the data from the Ryder Cup for sportsbook operators via the Golf Event Centre, working with the organisers and rights holders at the PGA of America and Ryder Cup Europe. The partnership will allow sports bettors to enjoy a comprehensive range of real-time, shot-by-shot data and markets, as well as interactive course visualisations.
"As an iconic sporting showpiece, the addition of the Ryder Cup to the Golf Event Centre cements its status as a must-have product," said Max Wright, SVP Commercial of IMG ARENA.
"Sports bettors will be able to enjoy a totally new and unique experience at this year's event, with a never-seen-before range of data and content to consume as they enjoy a magical three days of action."
Seth Waugh, PGA of America CEO, commented: "This experience allows fans to engage with our most unique flagship event – the Ryder Cup – in a way that they've never been able to before. This is an entirely new avenue to globally reach a world of people, beyond just dedicated golf fans, and importantly to continue the momentum of growing interest in the game from an increasingly diverse fan base."
Guy Kinnings, European Tour Deputy CEO, Ryder Cup Director and Chief Commercial Officer, added: "The Golf Event Centre offers a new way for fans to enjoy and experience the Ryder Cup, a global event that transcends our sport.
"We have been working closely with IMG ARENA across our European Tour events since 2019 and the inclusion of the Ryder Cup in the Golf Event Centre is the natural next step in that partnership."