By
Phil
- 12 August 2021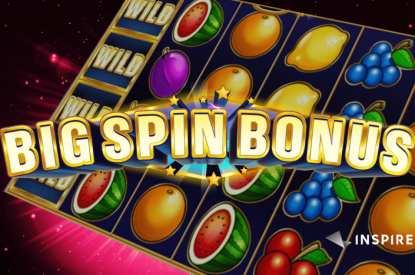 With all constraints on betting shops, pubs and holiday parks in England lifted on July 19, Inspired delivered year-over-year growth across all segments in the second quarter 2021.
The Interactive business continued to display strong performance, and sequential growth, in all major markets, with revenue of $5.8m, an increase of 69 per cent year-over-year, due to the addition of new customers and territories and the consistent launch of new high-quality content. This expansion, as well as the associated costs to establish new geographies and licensed content, led to Interactive segment operating income increasing 46.8 per cent year-over-year to $2.6m, and Adjusted EBITDA increasing 45.7 per cent to $3.6m from $2.4m in the prior-year period. The Interactive business generated record revenues for the company in July.
Total revenue came in at $41.5m with a net loss of $43.8m and Adjusted EBITDA of $8m.
During the quarter, Inspired's key retail gaming territories UK, Italy and Greece, reopened at different stages following COVID-19-related restrictions. The UK government gradually removed COVID-19-related operating restrictions throughout the course of the second quarter 2021, beginning April 12, 2021, with all of the Company's retail businesses in England not being able to operate without constraints until July 19, 2021. The Greek Organisation of Football Prognostics (OPAP) betting shops reopened May 24, 2021, while in Italy, retail venues began reopening in June 2021.
"We are pleased with our second quarter results as the majority of our retail businesses steadily reopened throughout the quarter and our Interactive business built upon its momentum coming into the quarter to continue its rapid growth trajectory," said Lorne Weil, Executive Chairman of Inspired. "From what we have seen in July and so far in August, this momentum in the Interactive business has continued—leading to record-level revenues in July, notwithstanding the reopening of retail customers during the quarter—while our retail businesses appear to have rebounded quickly to roughly pre-COVID levels, as we had forecasted. Gross gaming revenue per operational machine in betting shops is approximately back to pre-COVID levels, the pubs have been improving steadily week-to-week since constraints were completely lifted in July 2021 and revenue from the holiday parks has outperformed our initial expectations."
Mr. Weil continued: "Our North American business remains a key driver of growth opportunities as we continue to build momentum and expand our footprint. Early results from our installed base of Valor™ terminals with Western Canada Lottery Corporation (WCLC) have been very encouraging. We believe this bodes well not only for future placements with WCLC, but also for our video lottery terminal business in the Canadian lottery market, which has approximately 33,000 machines in total. We see the North American online gaming and betting markets as significant opportunities, and we believe we are well positioned in these markets. We launched our first games into Michigan in the second quarter and North America has now become our second largest Interactive market, with further opportunities as we continue to reach full deployment across Michigan and New Jersey and seek to benefit from opportunities with several additional states. We have also started to work with BetMGM in New Jersey on promoting our Virtual Plug & Play™, which allows their online players to access multiple virtual sports via an intuitive player interface, and we are very excited about the prospects for this product."
"During the second quarter, we refinanced all of our borrowings, which extended our maturity profile and provided us increased operating flexibility, while lowering our expected interest expense (excluding the amortization of debt fees) for 2022 by approximately $3.6 million," said Stewart Baker, Executive Vice President and Chief Financial Officer of Inspired. "Between the strong retail gaming recovery outlook, robust iGaming trends, refinancing and the overall improvement in our cost structure coming out of COVID-19, we believe we are in a better position than ever to deliver on our strategic plan and maximize shareholder value."
The quarter included 71 Valor sales in Illinois, bringing total Valor terminal sales in North America since launch to 540. The company has commitments for 36 additional units in Illinois thus far in the third quarter.
Inspired signed an extension with Entain enabling BetMGM, Borgata and Party Casino to launch Virtual Plug & Play into multiple states in the US. In addition, the company signed a contract extension with Boylesports for the provision of Virtual Sports across retail betting shops in the UK and Ireland.
#Subsequent to the end of the quarter, Inspired launched its VPP product, which allows online players to access multiple Virtual Sports via an intuitive player interface, with BetMGM, Borgata and Party Casino in New Jersey and plans to launch with several other operators in the third and fourth quarters. Inspired also launched three channels of V-Play Soccer 3.0 with Stoiximan, the largest online operator in Greece, as well as a number of new features with Misli, Turkey's fastest growing betting site.
Following certification by the Gaming Inspection and Coordination Bureau for Macau, V-Play Horses was launched with LT Game in Macau on self-service betting terminals in the second quarter. Updates to V-Play Soccer 3.0 and V-Play Matchday Soccer were launched in OPAP venues in Greece along with a new Euro soccer tournament product which was launched alongside the European Soccer tournament in the second quarter 2021. In Italy, the Company launched new Virtual products (Marbles, Penalties and Matchday Ultra™) with its online and retail customers subsequent to the end of the quarter.
Interactive content was launched with seven new customers, including BetMGM and Golden Nugget in Michigan during the second quarter. The Company launched Interactive games in Michigan during the second quarter. Seven games were launched during the second quarter across the estate including Big Spin Bonus and Cops and Robbers Megaways. Big Spin Bonus is the biggest launch in Inspired's history and the first game to hit 20 million plays in a week.