By
Phil
- 21 January 2015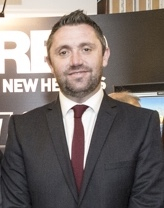 Inspired Gaming has reshuffled its corporate structure so that Lee Gregory, Managing Director of the UK, takes responsibility for the whole integrated UK P&L whilst Dave Hammond has been appointed as SVP of Mobile.
Lee Gregory will take responsibility for the whole of the UK market across VLT, Virtual Sports and Mobile. Dave Hammond, previously Gaming Operations Director for the UK, will now oversee Inspired's growing Mobile business unit and new Gibraltar-based operation. These senior changes come after a solid year of growth for Inspired and in preparation for further expansion in 2015 – particularly in Mobile.
Luke Alvarez, CEO and Founder, Inspired, comments: "Lee and Dave are valued members of Inspired's senior team, and these changes reflect their on-going contributions to Inspired's success. The UK and Mobile are key strategic priorities for Inspired and I feel confident that we will grow our leadership in these markets with Lee and Dave's expertise."
Phil Katsaros has also been engaged as Head of Business Development, Americas. An experienced gaming professional, Phil has over ten years experience at IGT. Phil will be responsible for boosting Inspired's Virtuals footprint across selected jurisdictions in the US.
In addition, Lorna Evans is appointed as VP of Development and Delivery, from her previous role as Director of Development. In her new role Lorna joins the Inspired Executive team and will be responsible for the delivery of Inspired's technology development across VLT and Mobile.